When & Where
Thursday, May 17, 2018
Bricklayers and Allied Craftworkers Local 9PA Training Center
100 Kingston Drive
Monroeville, PA 15235
Agenda
7:30 – 8:00 Check-In / Continental Breakfast & Networking
8:00 – 8:30 Welcome and Introduction to the Value of Trained Craftworkers
8:30 – 10:00 Cleaning Historic Masonry Structures
Roy J. Ingraffia, Jr., Assoc. AIA, MS, CSI, PA AIC
Director of Industry Development, International Masonry Institute
10:00 – 10:30 Break & Networking Opportunity
10:30 – 11:30 Laser Cleaning
Bartek Dajnowski
GC Laser Systems
11:30 – 12:30 Interior Masonry Cleaning
Sarah Holder
Prosoco
12:30 – 1:30 Lunch & Demonstrations
Laser Cleaning; Peelable Film Cleaning, and Mild Detergent Cleaning
Registration
While the seminar and lunch are free, registration is required.
Space is limited, please register by Monday, May 14, 2018.


Program
Methods and Methodology for Cleaning Historic Masonry Structures
This session presents the rationale and methodology for cleaning both interior and exterior historic masonry surfaces. Cleaning can be the first type of repair measure performed on a new masonry structure or performed as part of a maintenance or restoration project. In each of these instances, the masonry can be susceptible to damage caused by an improper selection of materials or methods. Understanding how to approach and develop a proper testing program is the first step in determining which technique will clean the building while promoting long-term performance. The program will introduce current cleaning systems and describe their general performance and applications. Specific attention will be paid to chemical, micro-abrasive, laser and latex systems.
New Advances and Applications for Laser Cleaning Masonry
This session presents on an overview of the capabilities and limitations of laser cleaning technology that was developed for cultural heritage preservation. Unique aspects of G.C. Laser Cleaning Systems and real case studies will be shown. The laser cleaning system was originally designed for art and architecture conservation by Bartek Dajnowski.
Interior Masonry Cleaning
The session builds upon the basics of masonry cleaning methodology and provides insight into the specific needs of historic masonry interiors. Attendees will learn about potential strategies for interior restoration cleaning and be able to discuss the advantages and limitations of wet and dry cleaning methods.
Laser Cleaning; Peelable Film Cleaning, and Mild Detergent Cleaning
There will be live demonstrations of laser cleaning process and cleaning soiled masonry without the use of water, abrasives, harsh chemicals or electricity during lunch. Traditional chemical cleaning methods with unconventional products will also be displayed. Small groups will be formed to witness firsthand the laser cleaning process, but will be limited to the quantity of protective eye wear available. After the demonstration, the attendees will be shown before and after samples.
Who



Architects, Building Owners, Developers, Engineers, Preservationists, General Contractors, Specifiers, etc., interested in the preservation of buildings and structures. Mason contractors signatory to the International Union of Bricklayers and Allied Craftworkers are welcome to attend.
Thank You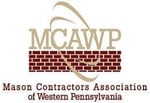 For more information contact Brain Trimble at btrimble@imiweb.org or call 703-300-0109.
---

CONTINUING EDUCATION
This program meets AIA/CES criteria for 4.5 LU/HSW learning unit, which will be reported directly to AIA.
---