Laser Cleaning for Architecture and Cultural Heritage Applications
Thursday, January 19, 2023 | 12:00 - 1:00 p.m. ET
Get an introduction to laser cleaning for architectural restoration and cultural heritage applications. You'll learn about laser cleaning physics, safety protocols, practical considerations, and the general advantages of laser cleaning over chemical and abrasive methods.

Join us as we discuss effective applications and the limitations of laser technology. We'll also identify real-world examples of successful laser cleaning projects that range from small artifacts to large monuments and architectural structures.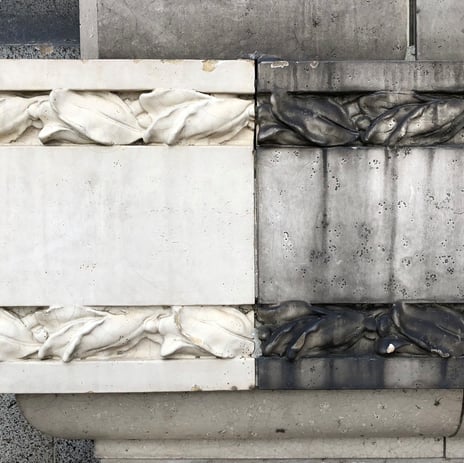 Image by G.C. Laser Systems Inc.
About the Speaker
Bartek Dajnowski
President, G.C. Laser Systems Inc.
Bartek Dajnowski is Vice Director of his family art and architecture conservation business, The Conservation of Sculpture & Objects Studio, Inc. and co-founder and president of G.C. Laser Systems Inc., a company that specializes in designing and manufacturing laser systems for the preservation and restoration of cultural heritage objects and historic buildings. Bartek's background includes a BA from Northwestern University, an MS in conservation science from Winterthur, and optical engineering training from the IOE. Bartek is a certified laser safety officer, has over 20 years of laser cleaning experience, has published papers in various journals, and holds multiple laser technology patents worldwide for his inventions. The "GC" stands for "Game Changing" and the laser systems Bartek developed, ranging from the compact GC-1 to the high power GC-1000 laser cleaning systems have been changing the game in cultural heritage and industrial applications worldwide.