Masonry and Energy Codes - Effective Energy Compliance Methods - 1.0 LU/HSW
Wednesday, June 17, 2020 | 12:00 - 1:00 p.m. Eastern Daylight Time
Achieving energy code compliance is becoming increasingly more difficult using the code prescriptive methods. This presentation will discuss the prescriptive compliance methods as they related to exterior masonry wall systems, and present a few design aids that can be used to facilitate this design.
Whole building analysis is an alternative compliance method that will produce more cost effective designs for exterior masonry assemblies. The presentation will also provide an overview of these energy code provisions and a review of recent energy studies performed utilizing whole building analysis for buildings that commonly use exterior masonry walls.
Learning Objectives:
Understand the prescriptive energy code compliance methods as they apply to exterior masonry walls systems.

List additional resources available for assisting with energy code compliance.

Contrast prescriptive energy code compliance with whole building analysis.

Describe how thermal bridging and thermal mass affect energy code compliance.

Discuss payback cost of whole building analysis identified energy improvements and present the results of some recent energy studies.
About the Speaker
W. Mark McGinley, PE, Ph.D, FASTM, FTMS

Professor and Endowed Chair for Infrastructure Research, Civil and Environmental Engineering, J.B. Speed School of Engineering University of Louisville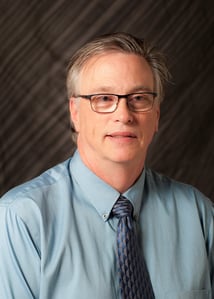 Dr. Mark McGinley is a structural engineer and building scientist with more than 33 years of research and forensic engineering practice in building systems. He joined the faculty in the Civil and Environmental Engineering Department at the University of Louisville in 2007 and is a recognized expert in masonry building systems, in particular, masonry building envelopes. His research has included basic research on the structural performance of masonry walls, water penetration experiments on envelopes and the building envelope performance of brick veneer and steel stud wall systems. Over 130 publications have resulted from his research efforts. Dr. McGinley has won numerous awards in masonry research and standards development, and leads technical committees in both the Masonry Design standard organization and ASTM.