Looking Back and Designing Forward: Adaptive Reuse for a Future Climate
Tuesday, September 28, 2023 | 12-1 p.m. Eastern Time


1 LU/HSW
In 2015, Kieran Timberlake discovered an opportunity for an ambitious experiment in sustainability: is it possible to retrofit a large, post-industrial bottling plant to serve as an office model while avoiding excessive carbon emissions?
Join us to explore a case study that illustrates the power of building reuse in the global struggle to meet carbon emission targets while identifying strategies for balancing embodied and operational carbon emissions. Apart from the sustainable strategies used to reduce carbon, shifts in cultural expectations were fundamental toward a flexible and dynamic office space within a large industrial building. ​We'll discuss the technical and social aspects from several years of post-occupancy data surrounding the retrofit design and operation. The principles derived from this case study can be applied to projects at multiple scales and locations to drastically decrease total carbon and demonstrate the potential for building reuse.
Learning Objectives:
Identify the impact of adaptive reuse versus new construction.

Describe the integration of building energy systems into the existing building.

Illustrate the occupant's behavioral and cultural interferences to help reduce operational carbon while maintaining comfort.

Outline best practices for post-occupancy data collection to ensure ongoing optimization of building energy and occupant comfort.
About the Speaker
Kit Elsworth, LEED AP BD+C, CPHC


Building Performance Specialist, Kieran Timberlake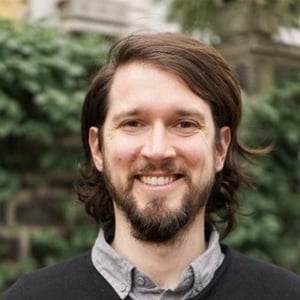 Kit Elsworth is an Associate and Building Performance Specialist at KieranTimberlake. As a member of the firm's transdisciplinary research group, he focuses on building performance modeling and simulation primarily through the lens of occupant comfort, energy efficiency, and total carbon. A key aspect of this role is to interpret research and analysis to both generate actionable design decisions for firm projects and elevate the performance goals of the architecture industry. Kit also works closely with architectural design teams and clients to support the advancement of holistic sustainability initiatives on all projects. Kit is a member of the AIA's 2030 Commitment Working Group to help evolve the AIA 2030 Commitment and increase industry participation. Locally, Kit participates in Philadelphia's Green Building United Passive House Subcommittee and he is a Certified Passive House Consultant (CPHC).