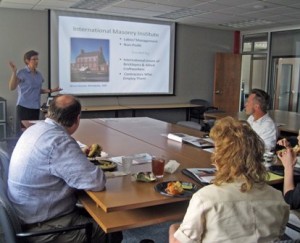 Structural Masonry
The goal of the International Masonry Institute (IMI) is to create man hours for BAC members and signatory contractors. With that in mind, IMI in Central Pennsylvania recently concentrated on two important efforts: promoting structural masonry and improving craftworker skills.
At a recent presentation to EI Associates, Maria Viteri discussed tips for Optimizing Structural Masonry with key architectural staff. The biggest take away from IMI's Structural Tips program – the compressive strength of the actual concrete block can exceed the minimum f'm compressive set by industry standards. The ability to exceed code minimum f'm compressive strength means that you can design stronger and higher walls with masonry at no additional material cost. EI architects were struck with the fact that trading greater thicknesses of reinforcing bars for higher compressive strength block results in an overall project cost savings. Specification language that refers to IMI's grout certification training was left with EI's specification writer. IMI's next step is to meet with EI's structural engineers and review these same valuable tips.
IMI targets design firms with potentials to create maximum BAC man hours and EI Associates is no exception. A design firm impacting the Pennsylvania, New Jersey and Maryland areas, EI is noted for its educational, municipal and correctional buildings.
Blueprint Reading
Amidst exercises, tips and jokes about architects, Maria Viteri, herself an architect, recently provided a review of blueprint and specification reading for BAC 5 PA craftworkers and left attendees with two key "never dos." 1) Never scale a drawing and 2) never locate a movement joint on a building, said Viteri.
Upgrade training provides one of the best ways for craftworkers to advance their careers. Upgrading the ability to clearly communicate with the design team is directly dependent on a craftworker's comfort level with understanding and interpreting a set of project documents – blueprints and specifications.
"Blueprints will never be complete" became the slogan of the day as IMI walked through drawings and specifications with area craftworkers. "But you have to know what to look for and also when to ask for clarifications, and when searching for clarifications, don't forget to call IMI at 1800-IMI-0988."