It's a rare opportunity that designers and craftworkers get to come together to collaborate on a project. Masonry Camp turns that opportunity into reality.
This fall, 40 young designers and craftworkers from around the country traveled to the BAC/IMI National Training Center in Bowie, Maryland for a weeklong educational program that fosters an advanced understanding of how to collaboratively design, build, and innovate with masonry.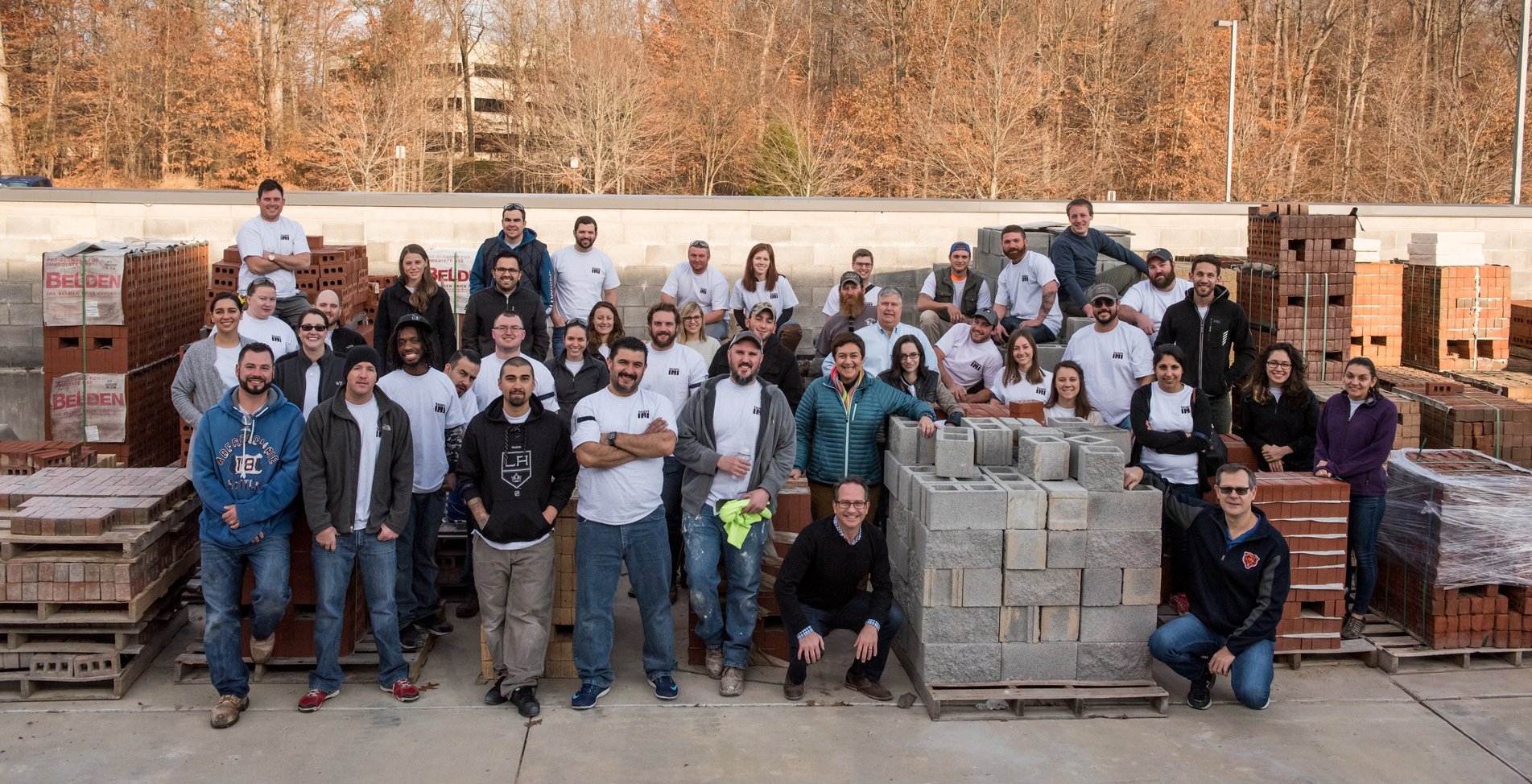 2017 Masonry Camp participants and IMI instructors outside the BAC/IMI National Training Center in Bowie, MD.
In true camp fashion, the participants lived, dined, learned, and socialized together throughout the program, with sessions and hands-on activities from morning until night. Held annually, Masonry Camp culminates with a group design-build challenge. This year, 7 multidisciplinary teams worked to create community health centers that promote wellness and show the value of building with masonry.
"Health care is a big building sector for us at the International Masonry Institute," said Maria Viteri, Director of Sustainability and Program Development at IMI. "We have a lot of contractors working in that area, so it's great to see our teams exploring the concept with their projects."
Douglas Johnson, Bricklayer, BAC Local 1 CT, remarked of his experience, "It's nice to get the bricklayers and the masons and the architects together working on the same project. It really helps bridge the gap that we sometimes see in the field between the design project and the construction project, and shows each of us the other side of the spectrum. We're having a great time. I've got the best team."
Emily Thompson of BNIM Architects agreed: "I wish we worked together like this in the field all the time."
Frano Violich, FAIA, Explores Material Paradoxes, Inspires Innovative Thinking in Opening Keynote
To prepare for their design-build challenge, participants were exposed to a variety of ideas and learning, starting with an opening keynote from Frano Violich, FAIA, co-founding Principal at KVA MATx.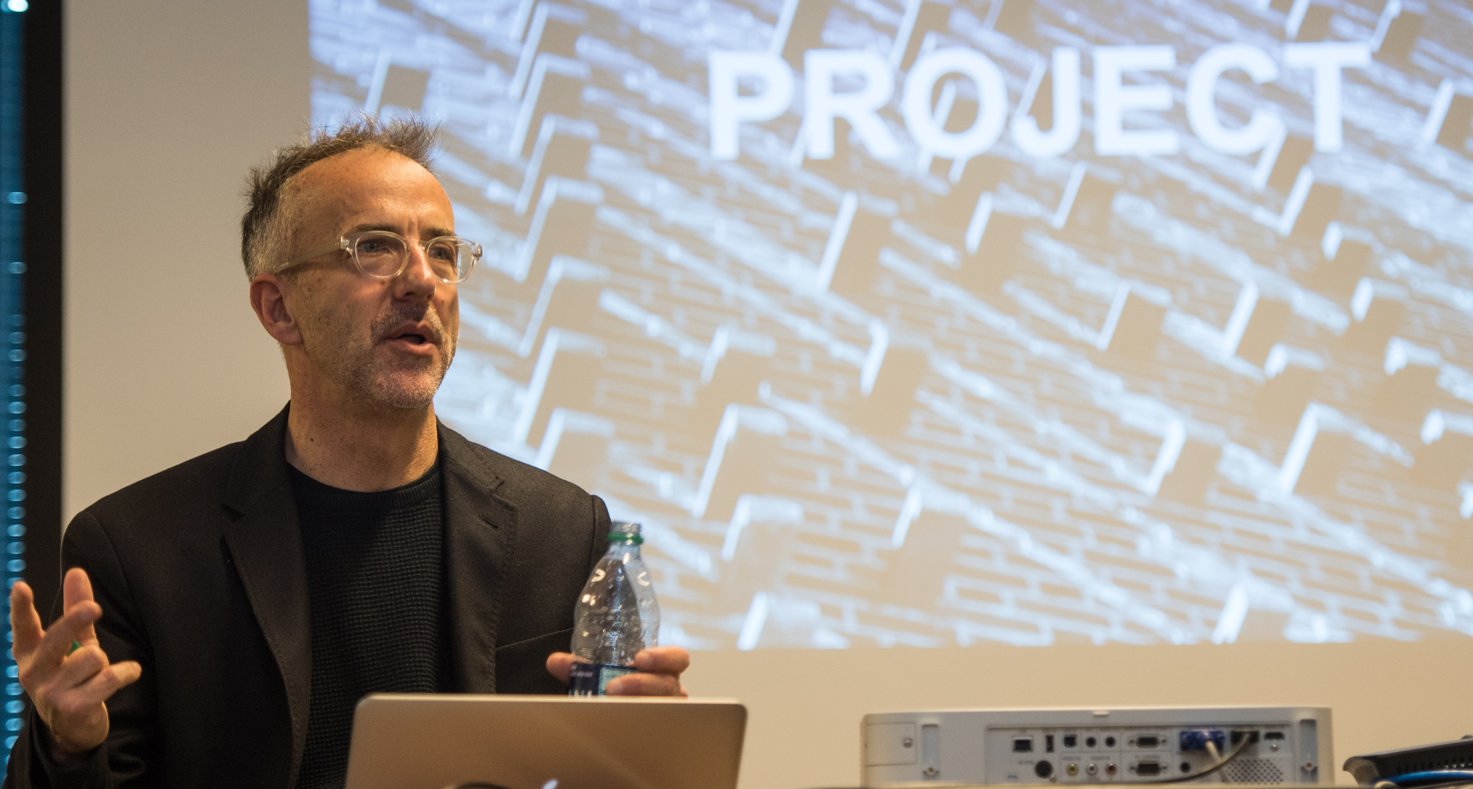 Violich discusses the compelling properties of brick in his opening keynote.
"I want to challenge you this week to think about the connection between the hand and the head," said Violich, encouraging participants to consider how materials can impact design. In his keynote, he explored the "material paradox" of brick, noting that it can be both thin and thick, and that it can address matters of both efficiency and efficacy.
Craftworkers Share Skills, Designers Gain New Material Insight Through Hands-On Learning
Masonry Camp includes two full days of hands-on material instruction, giving craftworkers and IMI instructors a chance to share their craft, and designers the opportunity to get their hands dirty, exploring materials and working on the wall. The sessions covered brick, block, rain screens, and tile setting, with advanced detailing in brick and block patterns, lintel replacement, arches, and corbels, recesses, and screens.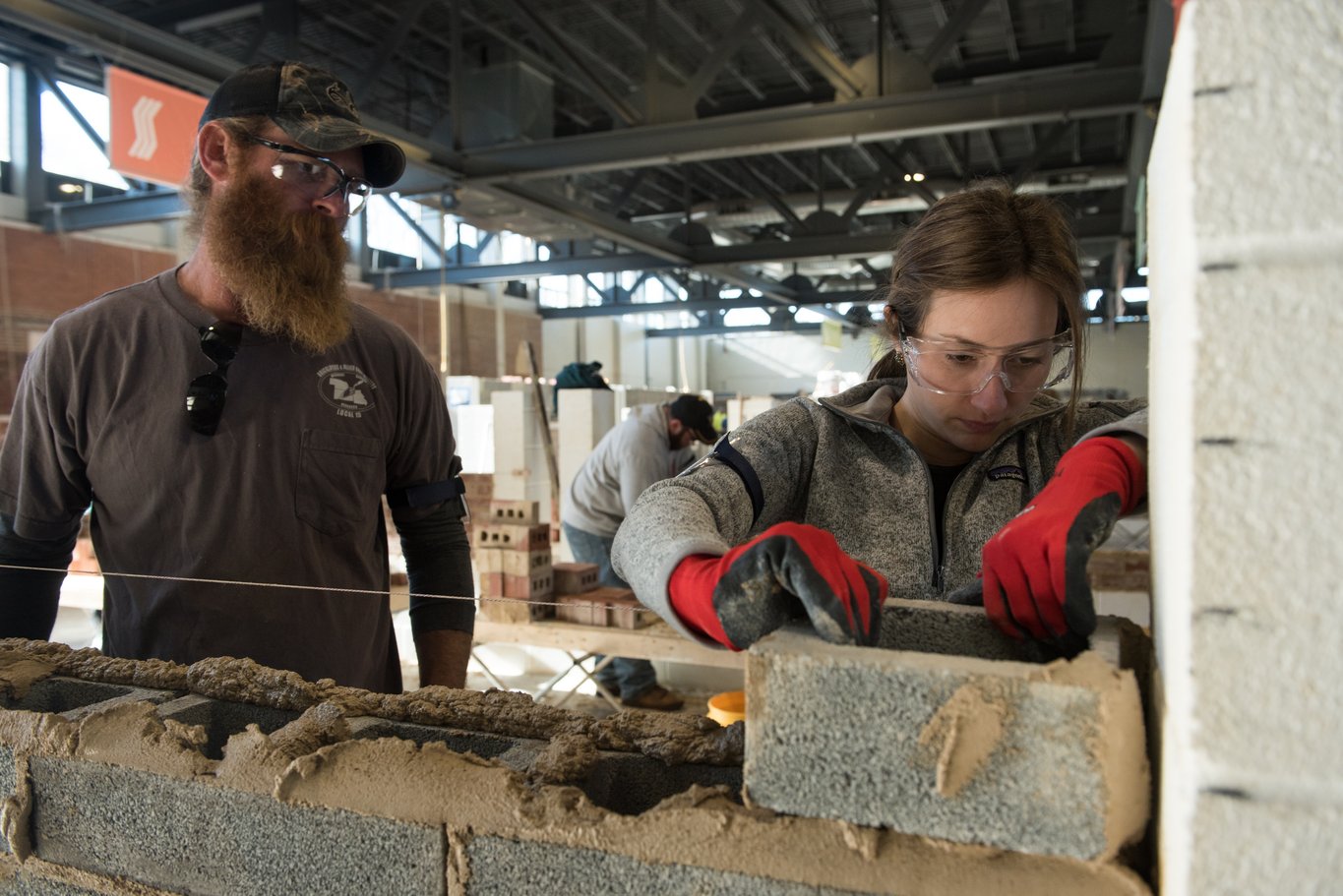 Jason Bock of BAC Local 1 NE oversees his teammate Kelsey Holmes of Miller Dyer Spears in hands-on block instruction.
Many of the designers found the hands-on sessions to be one of the most rewarding parts of Camp.
"The hands-on experience was great, especially getting to work with these skilled tile and brick guys that helped us along, and didn't let us drown trying to do what they do," said Andrew Dowling of Quorum Architects.
"My favorite part has been the hands-on training," echoed Victor Angulo of NK Architects. "Being able to talk to the craftworkers helped give us a better idea of how to put things together, which not only helped me to make my design decisions better, but also made my life easier by giving me an idea of how to simplify the design."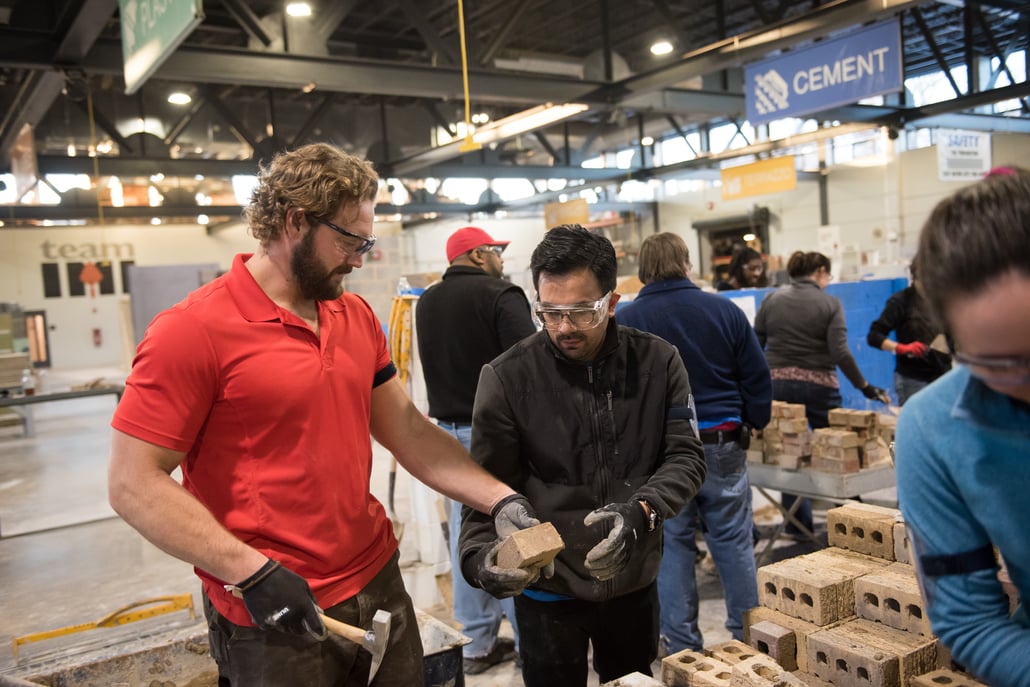 Zachary Zuidema of BAC Local 21 IL (left) working with Victor Angulo of NK Architects.
"I work in the field a lot and get to see this work being done, but I'd never tried it before, or even actually held a brick in my hand, or handled the flashing. It's a lot more difficult and time consuming than I thought. I definitely have a much greater respect for these craftworkers now," said Jessica Fair of Wiss, Janney, Elstner Associates.
The hands-on component also helped designers think about how to better specify details in their design. "I have a new appreciation for how hard it is to actually build a project," said Kristina Perhach of Stantec. "So now when I put things on paper, I know better what to include. Especially with the project we designed, and the intricate cuts – that's something that we as designers shouldn't just say 'this section is 25% brick and 75% tile – you figure out the pattern.' Those are really the intricate details that architects and engineers should be laying out, to make it easier. If I can't figure out the detail or how it would be done, I don't know how I can expect the craftworkers to interpret it in the field."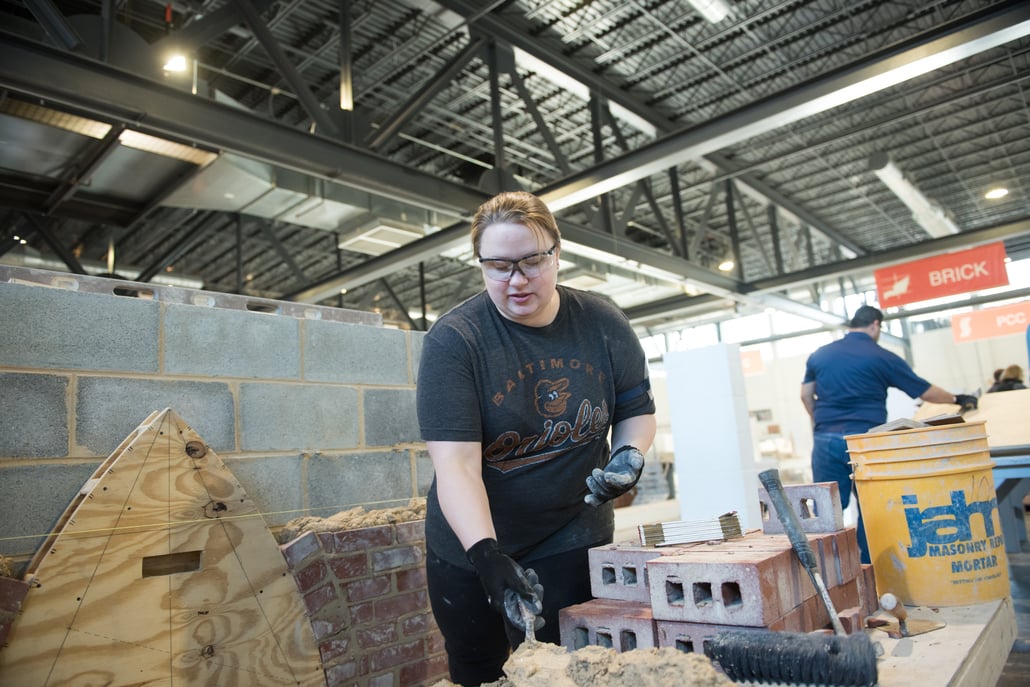 Kristina Perhach of Stantec laying brick during the hands-on session with arches.
The designers weren't the only ones that walked away with a newfound appreciation.
"I enjoy working with the architects and getting the chance to help bring their ideas to life," said Aaron Matheney, Bricklayer, BAC Local 2 MI.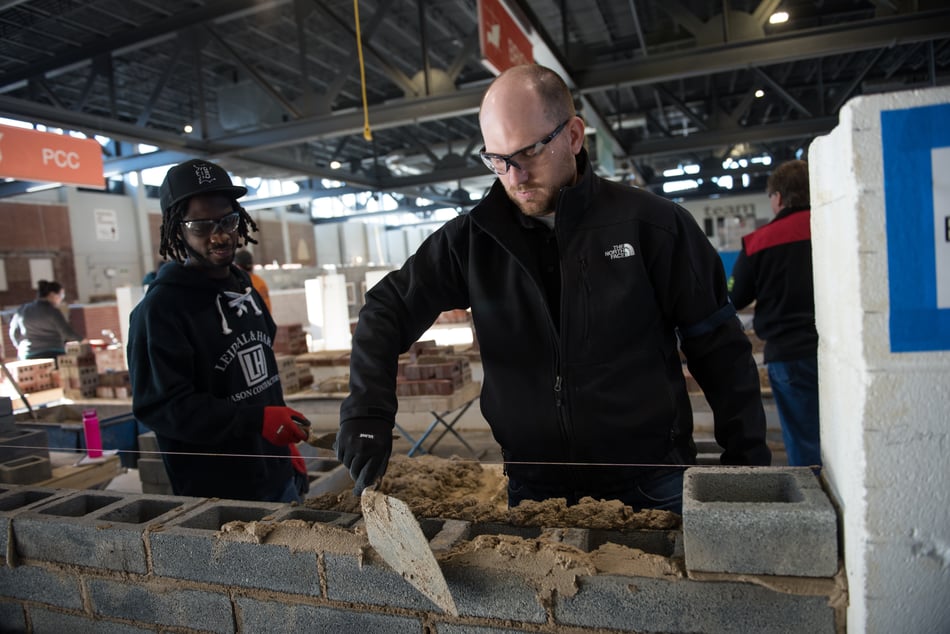 Aaron Matheney of BAC Local 2 MI (left) encourages his teammate Joshua Klooster of AECOM.
"It's amazing watching the designers sketch and come up with ideas. Out in the field, we don't necessarily think about the whole process and the big picture, so for me it's truly a learning experience," said Luis Casas, Tile Setter, BAC Local 3 CA.
Craftworkers & Designers Collaborate on Community Health Center Concepts & Construction
Throughout the week, teams spent time in the studio working on concepts for a community health center. On Friday, they constructed a building element that served as a representation of the design solution, and on Saturday, presented their work to a panel of experts – including Architect of the Capitol Stephen T. Ayers and BAC President James Boland -- who offered feedback on their work.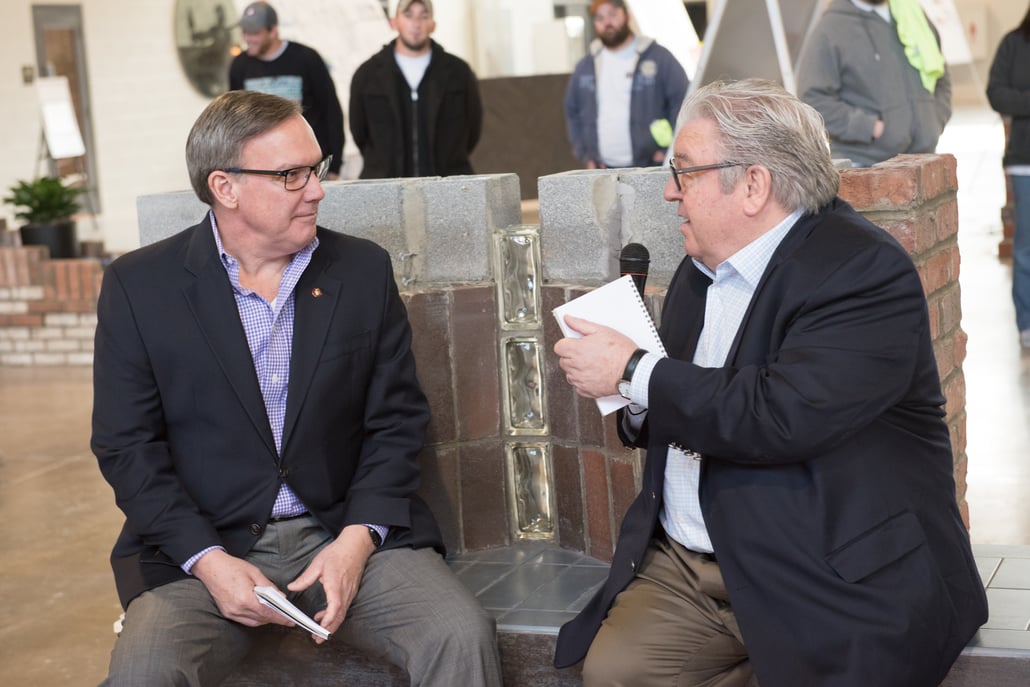 Special guest Stephen T. Ayers, Architect of the Capitol, and James Boland, BAC President, offered friendly commentary on each of the projects.
"Our project is based on the experience of the river," explained Emily Thompson of BNIM Architects. "It's located in a river town, and as you walk through the health and wellness center, you have beautiful views of the water and flow through the different spaces in the building. We've chosen roman bricks, which are long and narrow, and accentuate horizontality. We also used tile to create a mosaic river, again accentuating flow. It's really lovely."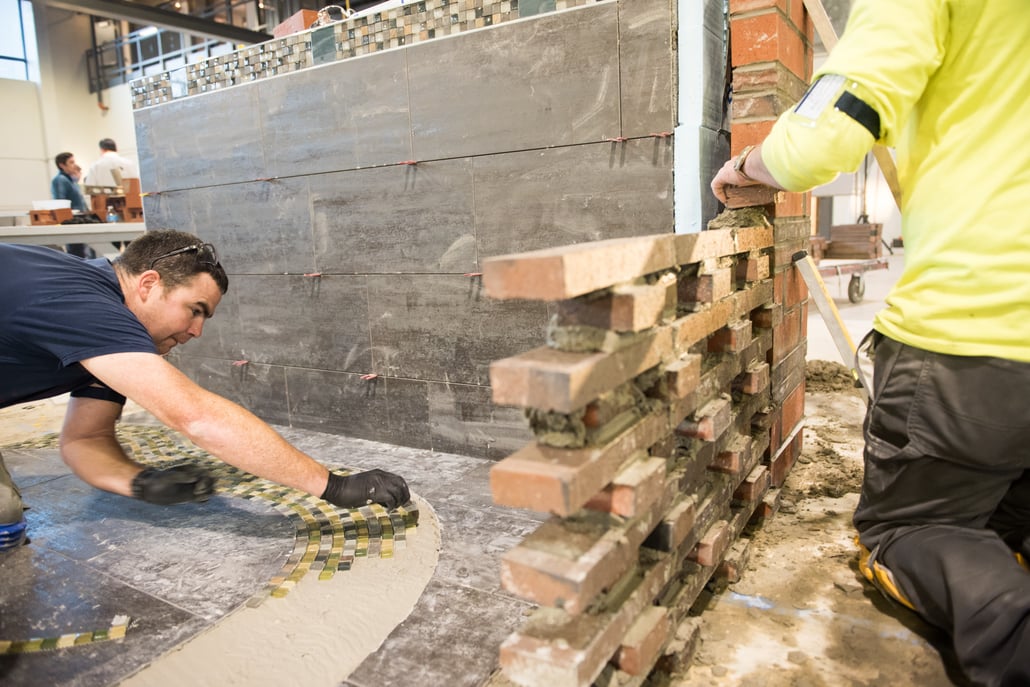 Matthew Malloy, BAC Local 21 IL, lays the mosaic tile river his teammate Emily Thompson of BNIM described.
Bridget Geissler of Elness, Swenson, and Graham explained her team's concept: "We have a project that's connecting green space and biophilia, which is a sort of pairing between people and nature, where people benefit from access to and interaction with nature. It promotes health, and can make people feel better, so we wanted to reinforce that by bringing nature into our healing rooms. So in our build, we have brick that recesses down and creates private areas between different healing gardens."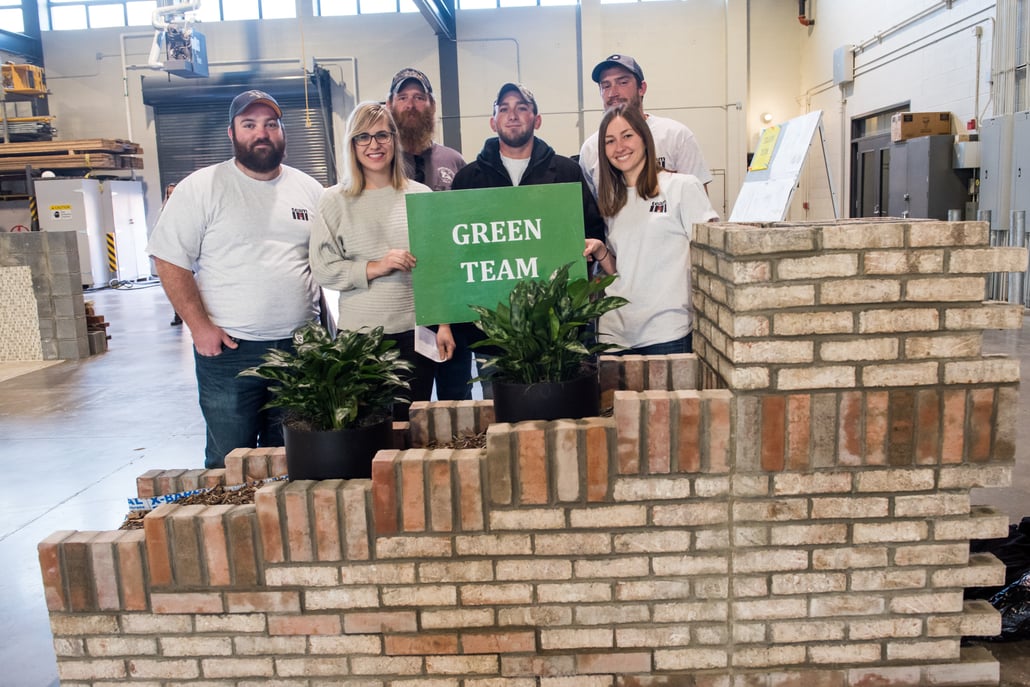 The Green Team poses with their finished project, which incorporated a custom drain solution to allow plans to grow between healing spaces in their center.
Each team worked collaboratively, with craftworkers helping to influence practical design decisions, designers working on the element construction, and both sides working together to solve challenges reflective of real-world building projects.
IMI A Lasting Resource for Participants
"Once Masonry Camp is over, we want to be a resource for everyone that's here," explained Viteri. "For this week, our participants have been able to work with the best of our national training staff for their hands-on learning, and experts from our technical staff to understand different concepts like restoration. We really hope we're building long-term relationships so that everyone goes back and feels that creativity in masonry design and construction can start with IMI."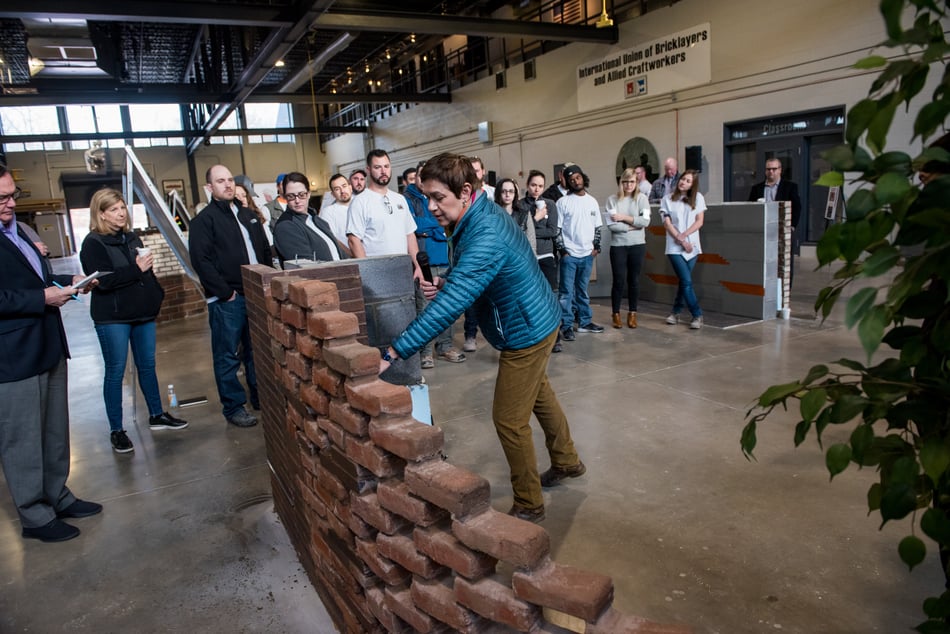 Maria Viteri, Director of Sustainability and Program Development, speaks to the Red Team's design, which played on the tension between order and disorder.
It's clear the designers and craftworkers alike agree: "Gaining access to the community of knowledge, expertise, and resources that IMI has to offer is so nice. It's great to be able to take this back to my colleagues and share so that we can continue to build our relationship with the organization," said Perhach.
Andy Yax, Brick Layer, BAC Local 2 MI reflected, "I think programs like this are vital not only to our trade, but the industry itself. The impression it made on the architects is a step in the right direction in bringing masonry to the forefront of sustainable and lasting building design. Getting a glimpse into the design process was an informative endeavor, and I think the hands-on experience that the architects had helped show that it takes in-depth training and a commitment to excellence – which BAC-IMI excels at --to bring their ideas and designs to life."
All photos in this story were taken by Sugar Farm Productions for IMI.