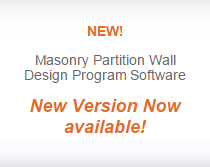 Introduced last year, the Masonry Partition Wall Software was a huge hit; now additional features are available in the new Version 2.
The program is designed to make engineering masonry partition walls easy, fast and code compliant while doing a rigorous engineering analysis using Allowable Stress Design. Options can be changed and compared quickly, and easily, permitting the designer to optimize the wall system in minutes.
The software is accessed through the IMI website and is available for use at no charge.
The new Version 2 opens with a redesigned input sheet including a scroll bar and pull downs. An interactive 'calculate-as-you-go' feature illustrates data input on a structural line drawing making input checking simple and visual. It calculates the status of the wall as entries are made on the input sheet showing if the wall is 'Good' or Not Good' – again a quick and visual way to check the design in seconds.
Additional new features in Version 2 include:
- An option to use the IBC 2015 (including the new CMU Unit Strength Compressive Strength Values);
- Grouting and Reinforcement spacing pull-down with options from 8" to 120" on-center in 8" increments;
- Running bond and Not-running-bond options;
- More guidance on partitions in SDC D;
- More guidance on cantilevered partitions;
- As well as all the features from the first edition of the program.
The software offers the user a choice of 3 national building code editions (IBC 2009, IBC 2012 and IBC 2015) and material choices of CMU: reinforced and unreinforced, as well as unreinforced clay brick. Three support conditions are available: Vertical, Horizontal and Cantilever and loading options of Vertical, Horizontal Uniform and Horizontal Concentrated. All Seismic Design Categories are supported as well as options for partitions in all Risk Categories and Egress Stairways.
An extensive background document is offered as a download, through a link, to provide guidance on using the program and as information on the basis of the analysis. Examples of both reinforced and unreinforced designs are also available as downloaded documents.
This IMI-sponsored program was written by two professors at the University of Tennessee who are experts in masonry and in java programming.