The winners of IMI's 2022 JBC Masonry Innovation Award represent the full breadth of possibilities for masonry design and construction.
From built projects that defy expectations about how masonry can be used, to cutting-edge research, to creative and cost-effective brickwork, this year's winners bring new meaning to innovation.
Five projects were named winners among entries submitted to the competition by architects, engineers, students, academics, and firms across the U.S. and Canada. Representatives from each project were honored at an awards ceremony held at the Boston Public Library on Sunday evening, September 25. Over 350 masonry industry professionals attended.
The award is named for former IMI President Joan B. Calombokidis, in recognition of her groundbreaking advancements in training, education, research, and technical support for both BAC craftworkers and designers.
Moto DesignShop's St. Joseph's Arrupe Hall Sweeps Up Firm Category
"It's both humbling and exciting to be recognized by North America's masonry organization and professionals," said Eric Oskey, AIA, Partner and Technical Director at Moto DesignShop, who won in the firm category for their project, St. Joseph's Arrupe Hall.
The hall's curvilinear brick chapel features an undulating screen that gives masonry an unexpectedly airy look.
"What we like to do at Moto DesignShop is challenge a material. The idea of making a screen out of single wythe brick prompts the question, 'how did they do that?'" said Oskey.
Indeed, it took innovative construction techniques to pull it off, but members of BAC Local 1 Pennsylvania-Delaware with signatory contractor Lepore were up to the challenge. "We really like the dialogue in talking to the professional builders," said Oskey, in reference to bringing the project to life.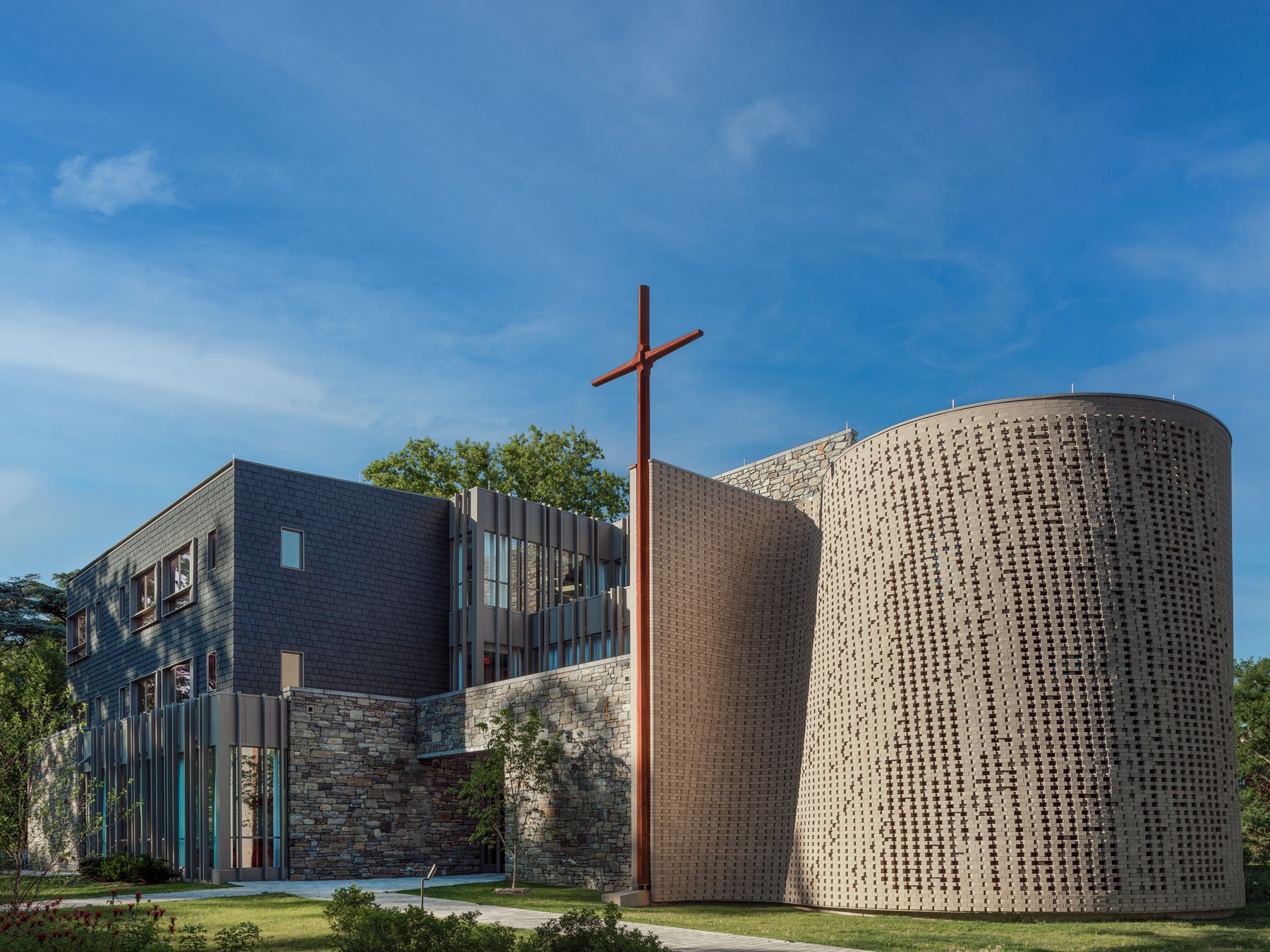 Photo courtesy of Moto DesignShop
The chapel is made up of 123 courses of bull nose and header brick. Each course was laid out digitally in AutoCAD, and a complete 3D Rhino model provided a visualization of the installation. Every brick in the screen was documented and labeled by its type and location. The masons were given a coursing plan for each layer and used Hilti laser positioning to lay each course according to the plans.
The resulting building serves as an inspirational hub for Philadelphia's Jesuit community, bringing together Jesuit priests from across the city to live and work in a collaborative ministry.
Masonry and Community Advocate Eric Pros Recognized in Young Architect Category
Eric Pros, Director of Design at DS Architecture, brings a passion for exploring masonry's possibilities to his building designs. It's no surprise that he's the son of a former Bricklayers and Allied Craftworkers Local 5 Cleveland member.
His collection of work, including Lakewood Fire Station Number 2, Westlake Senior Community Center, and the LN Gross Company Building, was selected as this year's young architect winner.
Pros' design process is deeply collaborative and intended to spark innovative solutions. He frequently involves IMI in his projects for technical support and inspiration. Eric also taps craftworkers at the BAC Ohio-Kentucky Administrative District Council's training centers to create proofs of concept for his designs.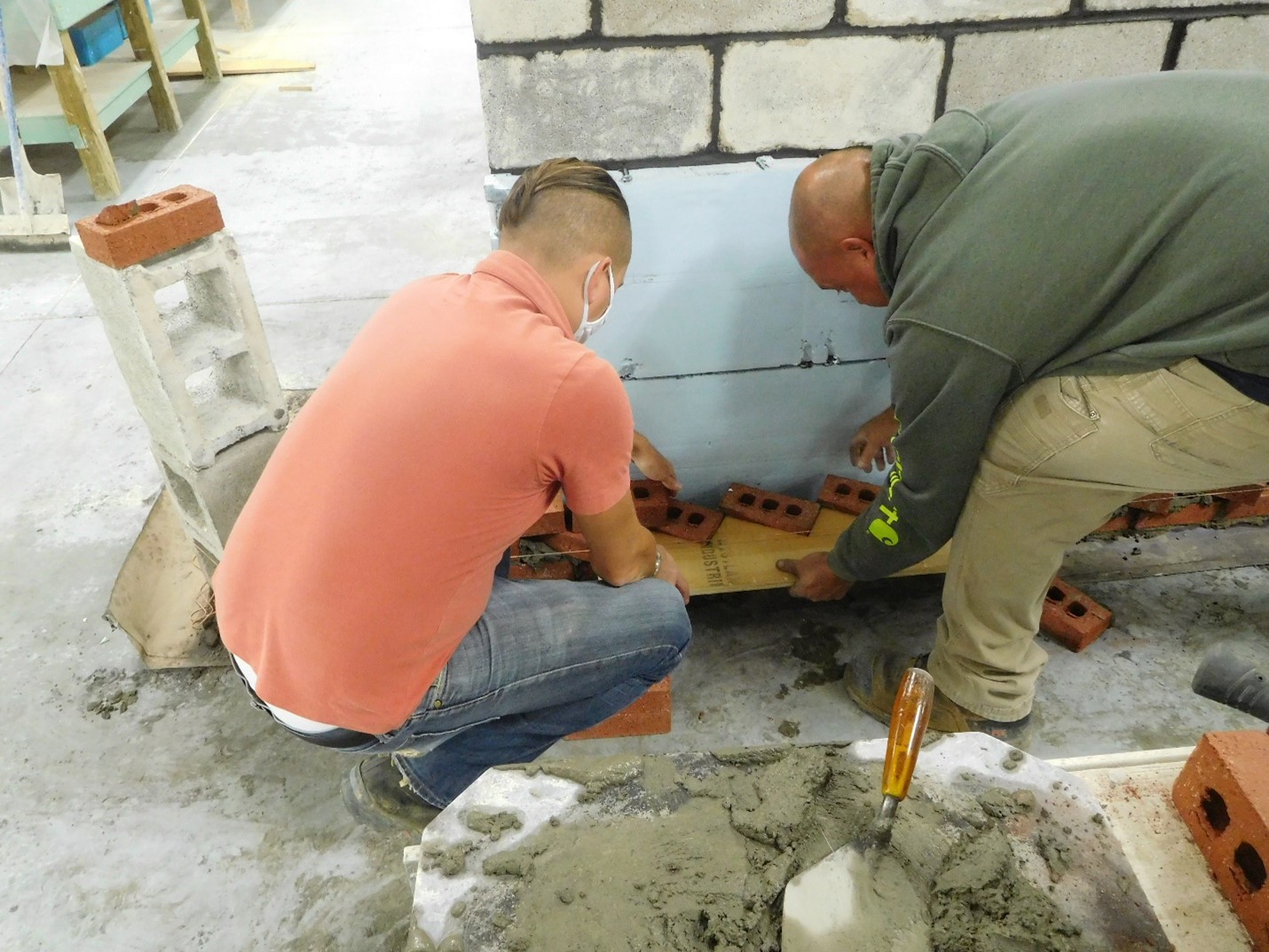 "It's not always easy to get buy-in to do something a little more or extra on a project," said Pros. "Time is always short, and budgets are always tight. To be recognized in this way is an affirmation that all the hard work is worth it."
All of Pros' designs show how a little creativity can have a big impact, even on a small budget.
At Lakewood Fire Station Number 2 – installed by BAC signatory contractor United Masonry – standard shaped bricks were rotated 30 degrees, forming a number 2 that pays tribute to the proud legacy of the city's heroic firefighters.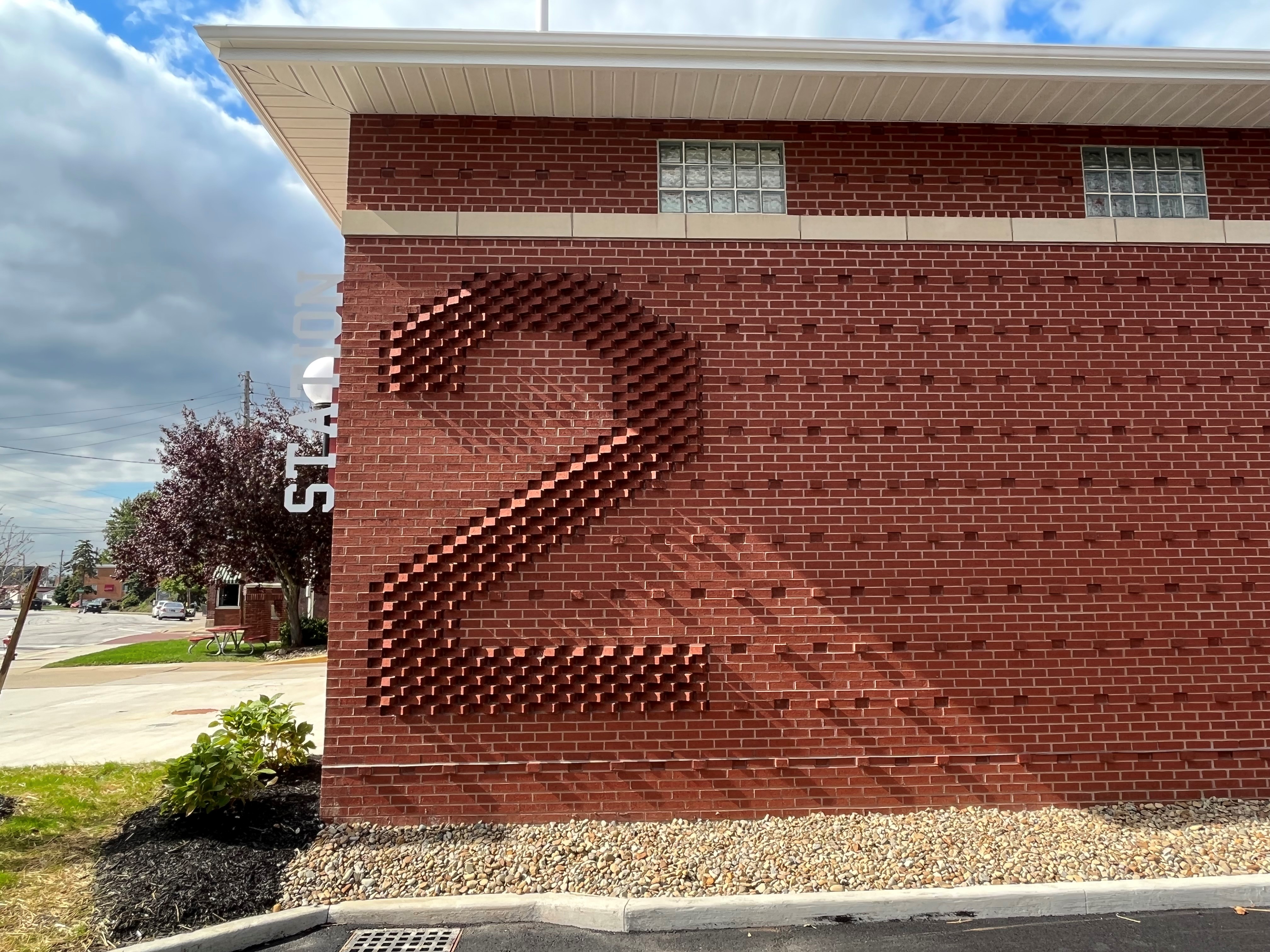 Photo courtesy of Eric Pros
Westlake Senior Community Center, built by BAC signatory contractor Coates Construction, reimagines a standard running bond pattern with a unique quarter coffer that runs a full wythe. After testing designs at BAC's training center, and with the help of IMI, the team created a jig as a template to make the system repeatable and easy to construct on site.
To revitalize the LN Gross Company Building, a landmark on the National Register of Historic Places, DS Architecture, together with BAC signatory contractor Ameriseal & Restoration, used innovative techniques. The project team reused over 90% of the building's original brick, despite decades of neglected mortar joints and failing and collapsed walls. On the building's addition, the brick was tumbled and manually marred to blend with the historic units. The project is a shining example of masonry's sustainability in adaptive reuse projects.
Shedding Water: Masonry Rainscreen System Honored in Student Category
Shedding Water reimagines a typical roof-to-wall architectural detail, exploring the intersection of function, materiality, and form.
The project, submitted by a team of graduate students at University of Waterloo -- James Clarke-Hicks, Isabel Ochoa, and Zaven Titizian – was honored in this year's student category.
"Innovation, to me, is finding novel applications for existing pieces of infrastructure," said Clarke-Hicks.
The project integrates water management into a continuous clay cladding rainscreen system on a supporting substructure that bridges roof and wall. The roof itself is made of 3D printed terra cotta tiles. Each unit has a unique shape, making 3D printing essential to the manufacturing process.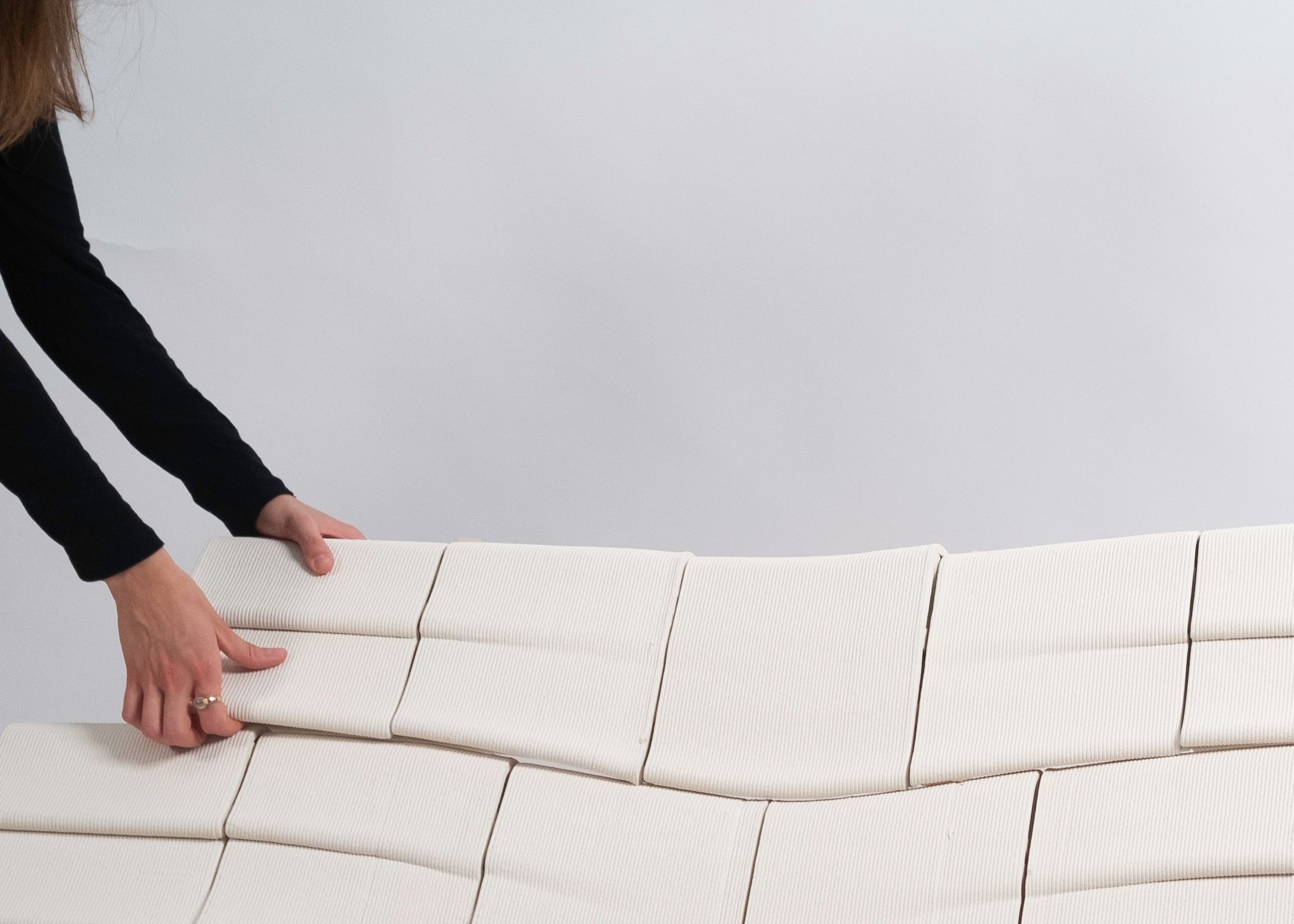 Photo courtesy of James Clarke-Hicks
In this imagined structure, water is collected across an eave and dispelled where the roof line folds into a spout. The design takes advantage of terra cotta's plasticity and impermeability to concentrate the flow of water off a single point. Through testing, the team explored the structural capacities of CONE-06 earthenware masonry components, creating a 1:1 scale bisque fired prototype of their design.
Shedding Water represents a broader culture of experimentation with masonry materials that push the boundaries of how we design and build.
Perforated Masonry and Polybrick Honored in New Material Exploration Category
Perforated Masonry, submitted by Mohammad Bolhassani, Assistant Professor, PhD., PE. at City College of New York and architectural student Ahmed Helal, was recognized in a new material exploration category for young architects and engineers.
The project proves the feasibility of a 400-year-old double-curvature masonry arch bridge designed by Leonardo DaVinci, that was considered a risky endeavor at the time, and therefore, never built. Bolhassani and Helal performed a rigorous analysis to prove the structural feasibility of DaVinci's design. They found that DaVinci's 2D drawing reflected the principles of geometrical equilibrium, which has only recently been developed with the help of computational frameworks.
After proving the structural feasibility, the team built a replica of DaVinci's design with almost 70% less use of materials, using Rhino Vault, a funicular form finding software.
Image courtesy of Mohammad Bolhassani
Polybrick, submitted by Sabin Lab, College of Architecture, Art, Planning at Cornell University, was honored in the material exploration, cross-disciplinary category.
Polybrick explores ceramic construction and full-scale fabrication through digitally steered material and process-based investigations. The research series integrates contemporary tools to enhance design possibilities of digital ceramics in contemporary masonry applications, showcasing the potential for symbiotic workflows of parametrically informed computational design, and innovative ceramic additive manufacturing technologies in furthering the vision of contemporary masonry systems. Polybrick 1.0, 2.0, and 3.0 re-imagine new-age masonry systems with expanded aesthetic, performance, sustainable, and functionality metrics.
Image courtesy of Jenny Sabin Studio
"I truly believe that the future is collaboration between architects and designers pushing masonry innovation in research and practice, together with industry experts spearheading the craft and building of masonry structures," said Jenny Sabin, Principal of Jenny Sabin Studio, Associate Professor in Architecture at Cornell, and Associate Dean for Design Initiatives, Matter, and Design.
There's no doubt that together, these projects show exciting possibilities for masonry now and into the future.