From colonizing space with new masonry units, to creating 3D-printed evaporative façades, and inventing movable brick, the winners of the inaugural Joan B. Calambokidis Innovation in Masonry Competition represent exciting possibilities for the future of masonry design and construction.
Sponsored by the International Masonry Institute (IMI), the award recognizes former IMI President Joan B. Calambokidis, who retired in 2017.
"The competition honors Joan's overwhelming commitment to the union masonry industry, particularly, her work to inspire and influence architects and engineers to design and innovate with masonry," said Caryn Halifax, IMI President.
Three transformative proposals were selected as winners, among entries submitted by architects, engineers, students, academics, and firms across the U.S. and Canada.
Anh Nguyen, LEED AP and Shawn Chinudomsub, AIA, NCARB, CCS, LEED AP of IDAS, Inc. won in the architectural/engineering firm category for their hexagonal masonry unit suitable for building in space.
A team of faculty from Iowa State University won in the young architect/engineer category for their project, Mashrabiya 2.0, a 3D-printed façade with cooling properties: Leslie Forehand, Lecturer of Architecture; Shelby Doyle, Assistant Professor of Architecture; Nick Senske, Assistant Professor of Architecture; and Erin Hunt, Computation and Construction Lab Associate.
Chao Wei, a graduate student in Syracuse University's Architecture program at the time of entering, won in the student category for his alterable brick wall.
Winners were announced on March 6, 2018 at an awards ceremony hosted by IMI and the International Union of Bricklayers and Allied Craftworkers (IUBAC) in Miami, Florida.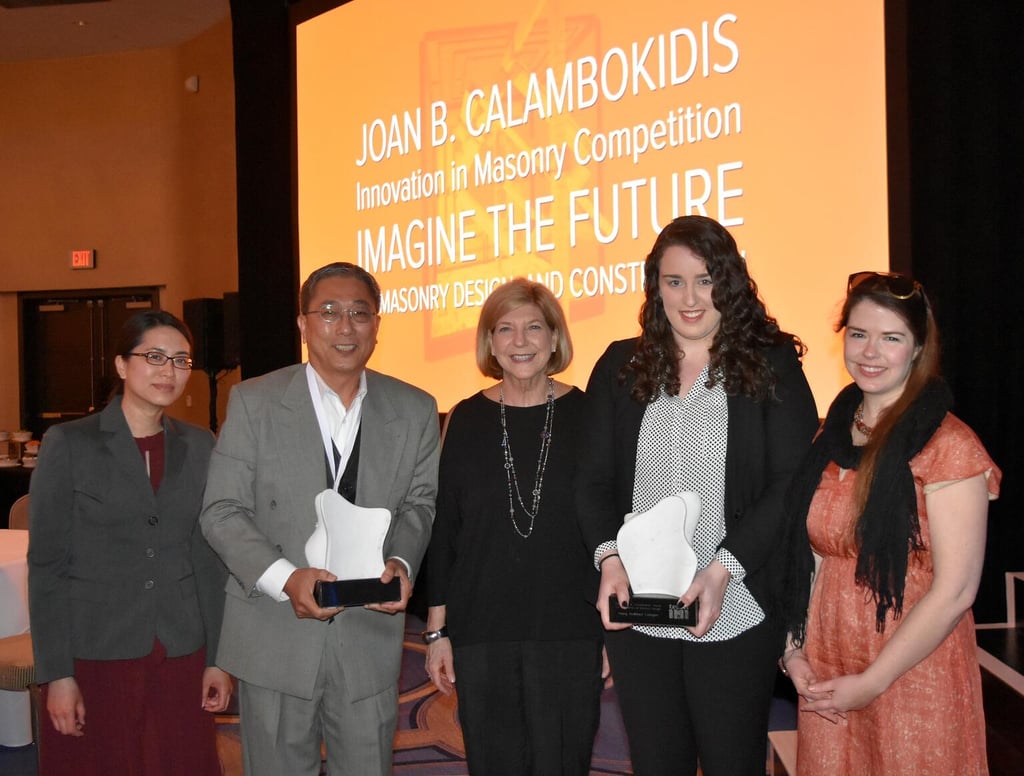 Winners pose with Joan B. Calambokidis, former IMI President, and their awards. From left to right: Nguyen, Chinudomsub, Calambokidis, Hunt, and Forehand.
"The word 'innovation' is so powerful, and we see that with our winners," said Carlos Jiménez, Principal and Lead Designer, Carlos Jiménez Studio and juror for the competition. "We have architects dreaming about colonizing Mars, academics innovating to improve a historical architectural form, and a student using his imagination in a lab to make movable bricks."
Along with Jiménez, the competition jury was comprised of renowned architects and leaders in the masonry industry: Stephen T. Ayers, FAIA, CCM, LEED AP, Architect of the Capitol; James Boland, President of IUBAC & IMI Co-Chair; Stephen V. DeSimone, PE, LEED AP, President/Chief Executive of DeSimone Consulting Engineers; Alan Feltoon, AIA, AICP, Senior Director of Business Development at Michael Graves Architecture & Design; and Michael Schmerbeck, President of Back Brook Masonry & IMI Co-Chair.
Masonry Units Made of Indigenous Materials Could be Viable for Space Colonization
With Space Race 2.0 underway, scientists, engineers, and architects are putting considerable thought and research into the infrastructure required to make space habitable.
Nguyen and Chinudomsub of IDAS, Inc. – winners in the architectural firm category – proposed a new masonry unit that could make space colonization possible.
"Masonry has been the basic building block of civilization from the beginning of time, so it seems quite logical that it will continue to be in the future – no matter where that civilization is," said Schmerbeck.
The conceptual unit is "a hexagon module with subtle interlocking edges to form clusters," explain Nguyen and Chinudomsub in their project statement. It would be available in a field-fabricated solid rock module with post-tension reinforcement, or as factory-manufactured CMU with grouted rebar. To minimize the cost of transporting building supplies to space, the field-fabricated module is made with indigenous materials. The unit would incorporate greater structural performance, improved versatility, and a new material aesthetic.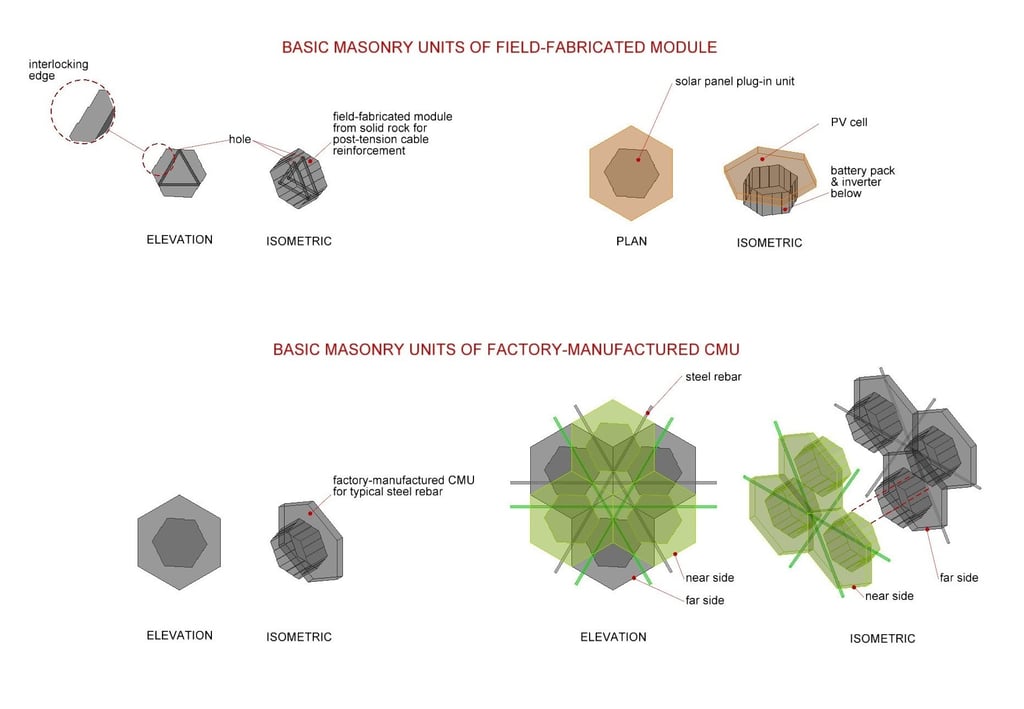 Using simple hand tools, the units can be assembled into protective shelters or spacecraft charging stations, as shown in Nguyen and Chinudomsub's prototype design.
"I've always wondered what the first profession on earth was," said Chinudomsub. "I don't know the answer, but I wanted to make sure the first profession on mars was a mason."

The unit is indicative of the design community's interest in versatile, prefabricated materials that provide multifunctional structural, aesthetic, and "smart" features, like energy savings.
"This represents a great possibility for masonry moving forward," said Schmerbeck. "It gives me hope."
3D-Printed Ceramic Façade Offers Evaporative Cooling to Buildings
Mashrabiya 2.0 is a 3D-printed ceramic façade that can be integrated into a building's mechanical system to control light, airflow, and privacy while offering evaporative cooling. Inspired by Arabic lace screens, which are traditionally made of wood, Mashrabiya 2.0 rethinks typical material associations, looking to masonry and technology to improve an existing form and extend the life of building assemblies.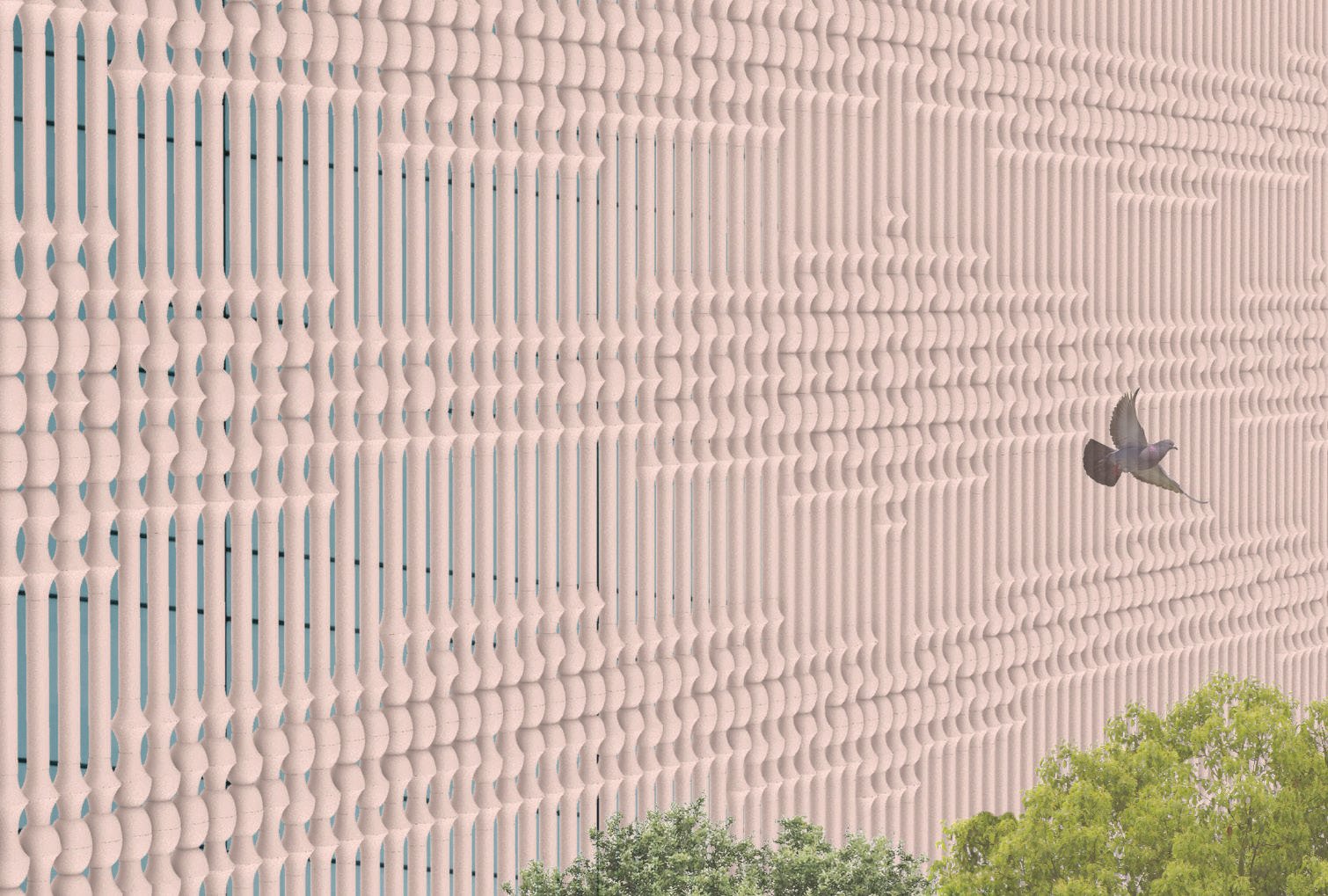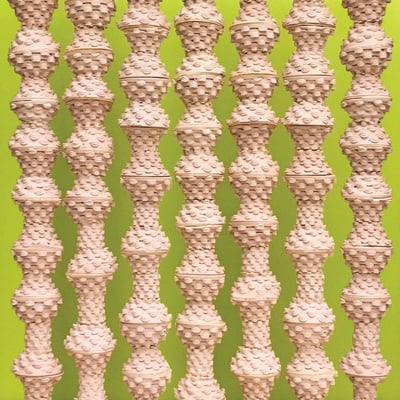 Winning in the young architect and engineer category – the concept, brought to life with a full-scale prototype – was submitted by faculty from Iowa State University: Forehand, Doyle, Senske, and Hunt.
"It is a great honor to be receive this award," said Forehand. "The Computation and Construction Lab at Iowa State University connects developments in computation to the challenges of construction through teaching, research, and outreach. Often our work feels very experimental, so it was amazing to be acknowledged by trade industries that understand the market and think our idea is viable."
The façade is offered in three different modules or shapes, each with "woven patterns that create micro-pores" to ventilate and cool the building, according to the team's project statement. "The ceramic pieces are printed and bonded to 3D-printed flexible gaskets, then stacked on a punctured piping system that is designed to spray water vapor onto the bisque-fired unglazed ceramics, actively cooling the spaces as air passes through."
"This submission took inspiration from Arabic lace screens, which are typically made from wood, and replaced that with masonry, which is really compelling. The resulting screen wall is well thought-out and the design is very pleasing, with such nice texture and pattern to it," said Ayers.
Feltoon agreed, remarking Mashrabiya 2.0 is a "very strong concept, incorporating 3D printing, technology, sustainability, and innovation."
As Mashrabiya 2.0 illustrates, 3D printing opens the door to new material shapes and configurations that have the potential to improve masonry building systems.
Alterable Wall Explores Dynamic New Possibilities for Brick Construction
Rotating bricks could usher a new wave of dynamic masonry design, allowing building facades to move and adapt to meet real-time conditions and sustainability needs.
The winner in the student category – Wei of Syracuse University – explores this concept with an alterable wall made of custom-shaped bricks. The units, cast from a CNC-fabricated mold, are designed to both interlock and pivot, creating vents that can be opened and closed to allow air and light to enter. In doing so, the project uses passive design strategies that can improve interior conditions while saving energy.
"Very few design competitions invite participants to focus on building materials and components," said Wei. "Pursuing innovation lead me away from existing brick systems to create something new and unconventional. It really was a surprise to win. I'd like to thank Dr. Daekwon Park and the faculty at the Syracuse Architecture graduate program."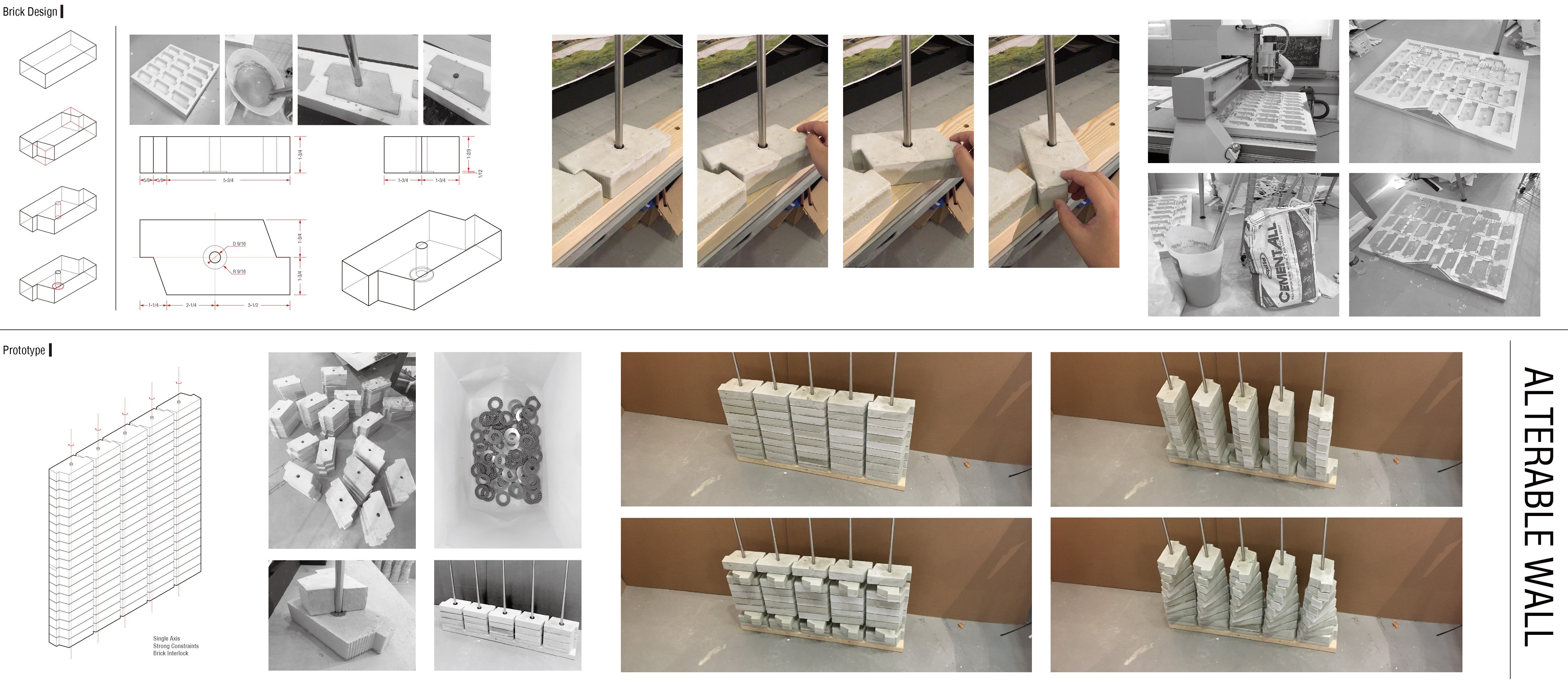 "The simplicity of the system makes it cheap and feasible," explains Wei in his project statement. "Meanwhile, the high thermal capacity of the bricks makes this system suitable for buildings in a dry, hot climate. Other applications include places where adjustable light and ventilation is needed."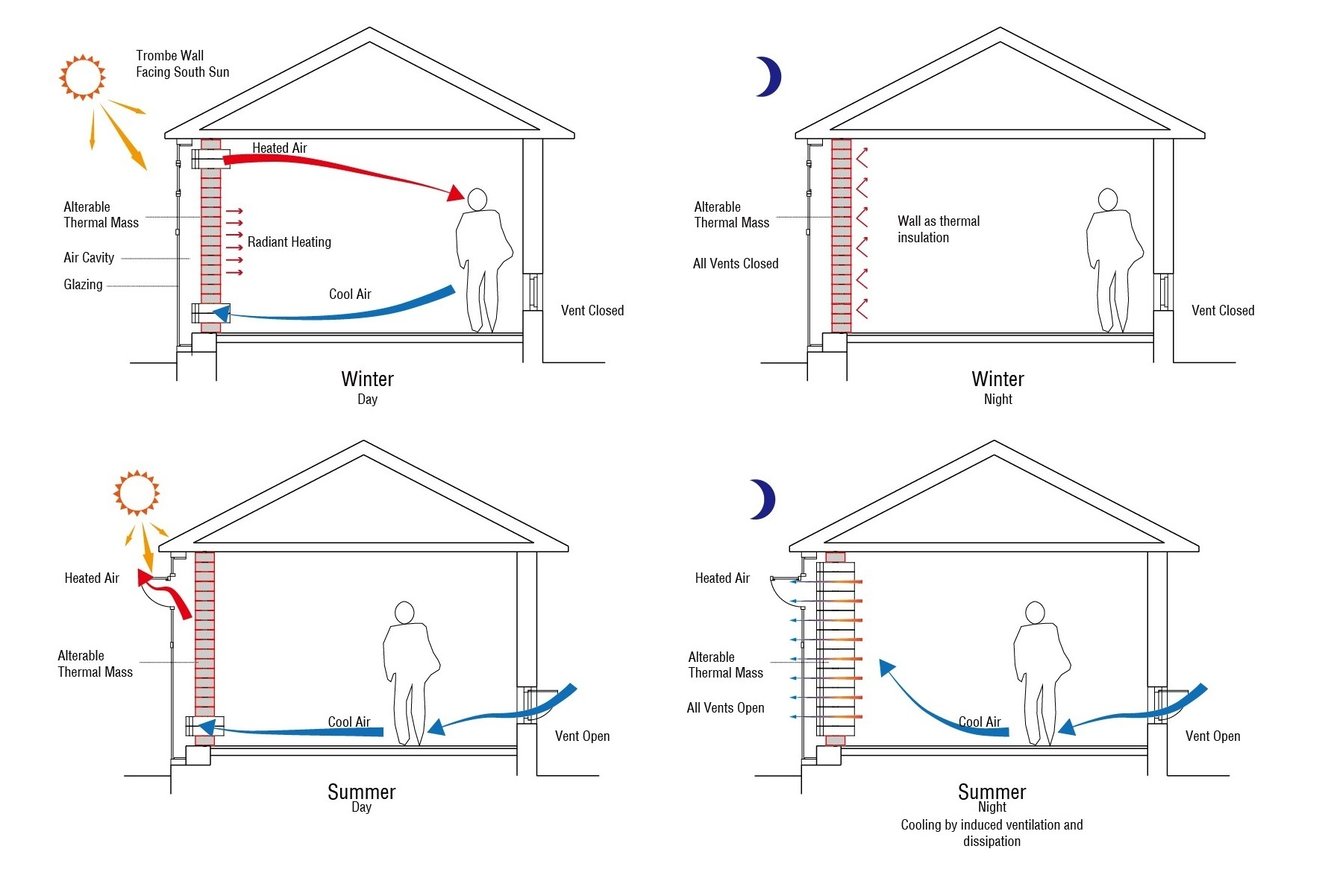 "This submission really caught my imagination," said DeSimone. "It's a living wall. The texture is so compelling that if you had it at street level, people could run their hands across it and it would change every day. It's dynamic, and people don't always think of masonry in that way."
The idea of "living buildings" that allow occupants to react to their environment is a cornerstone of dynamic design.
Today's design industry is interested in pushing the limits of kinetic walls and movable building facades, but often use metal, glass, or steel components. Wei's project offers the opportunity to design kinetically with masonry, responding to designers' and owners' need for green, dynamic building solutions.
"Architects are so fascinated with mobility and movement," said Jiménez. "When you consider innovation as a technique or material, the kinetic quality of this is so impressive, creating an unexpected application where masonry moves."
The winners of the inaugural Joan B. Calambokidis Innovation in Masonry Competition represent just that: unexpected and new uses for masonry.
"We hope the winning concepts will inspire architects and engineers to think of masonry as a material that can create aesthetic, structural, and innovative buildings so that we can continue to grow the union masonry industry" said Boland.
For more on the winning concepts, watch the videos below!