In exciting news for the tile industry, MasterSpec – the industry's most comprehensive building and construction specification resource – has updated its tile installer qualifications to include Advanced Certifications for Tile Installers (ACT). ACT certifies the ability and expertise of tile installers in key skill areas. The International Union of Bricklayers and Allied Craftworkers (BAC) currently has more ACT-certified tile setters than any other industry organization.
Updated Installer Qualification Language
The update to MasterSpec applies to its sections on Ceramic Tiling (Section 093013), Glass Tiling (Section 093023), Stone Tiling (Section 093033), and Chemical-Resistant Tiling (Section 093500), and includes the following language: "Installer employs at least one installer for Project that has completed the Advanced Certification for Tile Installers (ACT) certification for installation of [mud floors] [mud walls] [membranes] [shower receptors] [gauged porcelain tile/gauged porcelain tile panels/slabs] [large format tile]. www.tilecertifications.com."
What It Means for Architects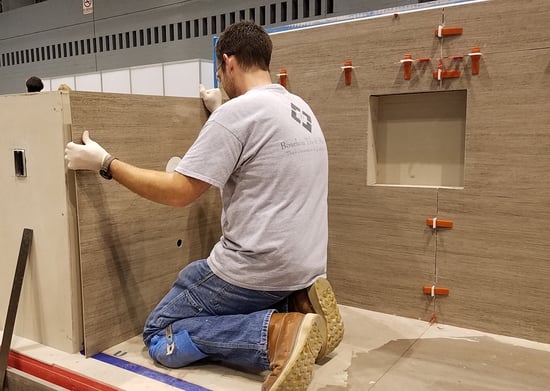 The new tile installer qualification language in MasterSpec can help you address quality assurance in tile installations. Use it in your specifications for projects requiring work in the specialty areas ACT certifies.
ACT installers go through rigorous testing to obtain certification, and must prove their knowledge of ANSI and TCNA standards in addition to their mastery of installation techniques.
What It Means for BAC Signatory Contractors
The introduction of ACT Certification language in MasterSpec signifies the design industry's focus on qualified labor. The requirement for qualified labor, and specifically for ACT-certified installers, will effectively eliminate unqualified contractors from bidding tile projects that carry this requirement, and will direct more work to skilled contractors, more often to be found in the union sector.
Although the International Masonry Training and Education Foundation (IMTEF) has already helped certify many installers, we must increase our numbers in the coming months to ensure we can meet the growing demand for ACT. Read our letter to signatory contractors to find out how you can help ensure that together we take advantage of this new opportunity.
What It Means for BAC Tile Installers
ACT certifies your skills and expertise as an installer. The certification is recognized by contractors, design professionals, and project owners as a mark of skilled labor and a way to guarantee quality installations. Pursuing ACT certification is a great way to give you a competitive edge as a tile installer.
To become ACT certified through IMTEF, you must:
Be a BAC journeyworker
Successfully complete a 25-question exam to prove knowledge on ANSI and TCNA standards, with a score 84% or higher
Successfully complete a hands-on assessment to prove practical skills, with a score 85% or higher
All BAC journeyworkers interested in pursuing ACT certification will be given an ACT study guide, along with copies of the American National Standard Specifications (ANSI) for the Installation of Ceramic Tile and the Tile Council of North America (TCNA) Handbook for Ceramic, Glass, and Stone Tile Installation. Get more information on ACT, including how to pursue certification.