IMI Director of Industry Development and Technical Services Scott Conwell, FAIA, FCSI, CDT, LEED AP, is the 2021 recipient of the Tile Contractors' Association of America's (TCAA's) prestigious Cesery Award.
The award, regarded as the highest honor bestowed upon leaders in the ceramic tile and stone industry, celebrates distinguished service to the field.
"Scott's expertise in architectural detailing of ceramic tile and masonry is legendary," said TCAA President John Trendell during an awards ceremony at Total Solutions Plus (TSP) on Tuesday. "There isn't an architect in the country who hasn't benefited from his expertise in the practical aspects of how to design with tile."
Conwell's thought leadership is evident across his portfolio of work. He's published countless articles in nationally recognized trade press and technical journals, contributed to the development of ceramic tile codes and standards, spearheaded critical tile details, and presented lectures on design theory and constructability internationally.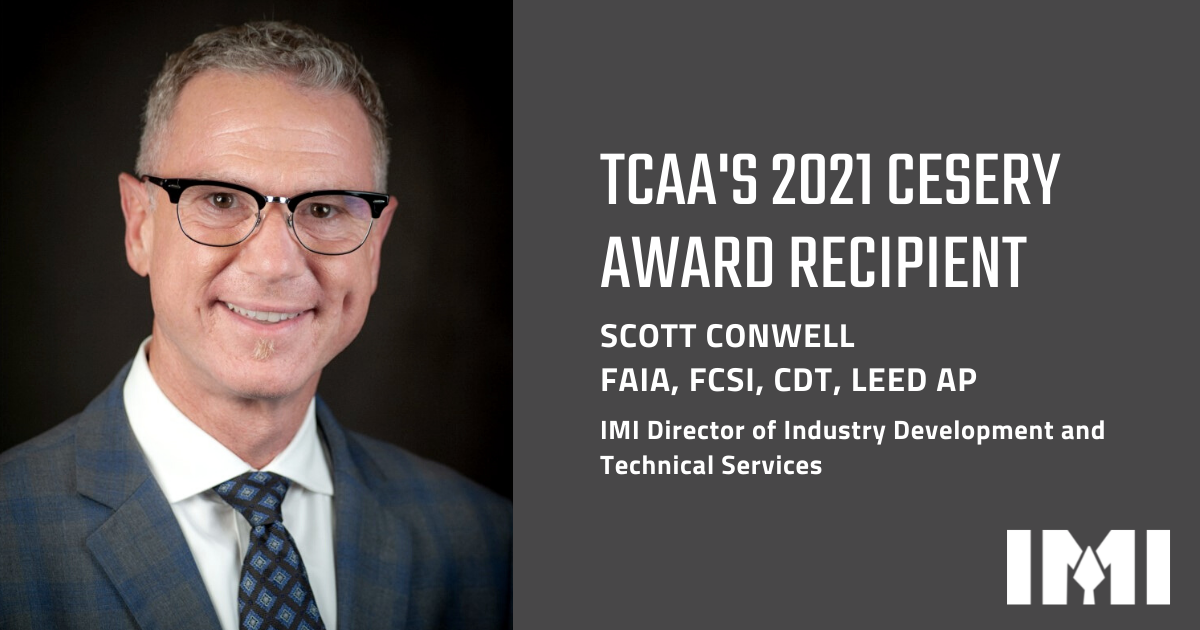 Of his many accomplishments, TCAA highlighted some of Conwell's notable contributions during the TSP awards ceremony, including:
Publishing articles in TILE Magazine, The Construction Specifier, Tile Letter, and 093000 Contractor magazine
Contributing to code and best practice bodies as a member of the Tile Council of North America Handbook Committee (TCNA), the American National Standards Institute (ANSI), and the International Union of Bricklayers and Allied Craftworkers' (BAC) Tile/Marble/Terrazzo Craft Committee
Helping develop the industry's first installation standards for gauged porcelain tile, A108.19 and A108.20
Leading an ANSI subcommittee in the development of a new standard, A108.T, Standard Terminology for Ceramic Tile Assemblies
Spearheading the inclusion of the Advanced Certifications for Tile Installers (ACT) in MasterSpec, a leading resource for producing construction specifications
Developing ceramic tile details used in curriculum taught to BAC tile installers nationwide
Being recognized as a Fellow of both the American Institute of Architects (AIA) and the Constructions Specifications Institute (CSI).
IMI's National Director of Industry Development Roy J. Ingraffia, Assoc. AIA, PA AIC, APT RP, remarked of Conwell's accomplishments: "Scott is a passionate advocate for the union tile industry. We're fortunate to have him on our team providing critical technical education, support, and inspiration for union-installed tile projects."
Join us in congratulating Conwell on this momentous achievement!