The International Masonry Institute (IMI) and International Masonry Training and Education Foundation (IMTEF) have a lot to celebrate this month. Eleven members of the International Union of Bricklayers and Allied Craftworkers (BAC) graduated from the organizations' Instructor Certification Program (ICP), making them uniquely qualified to teach the trowel trades to BAC apprentices and members across the country.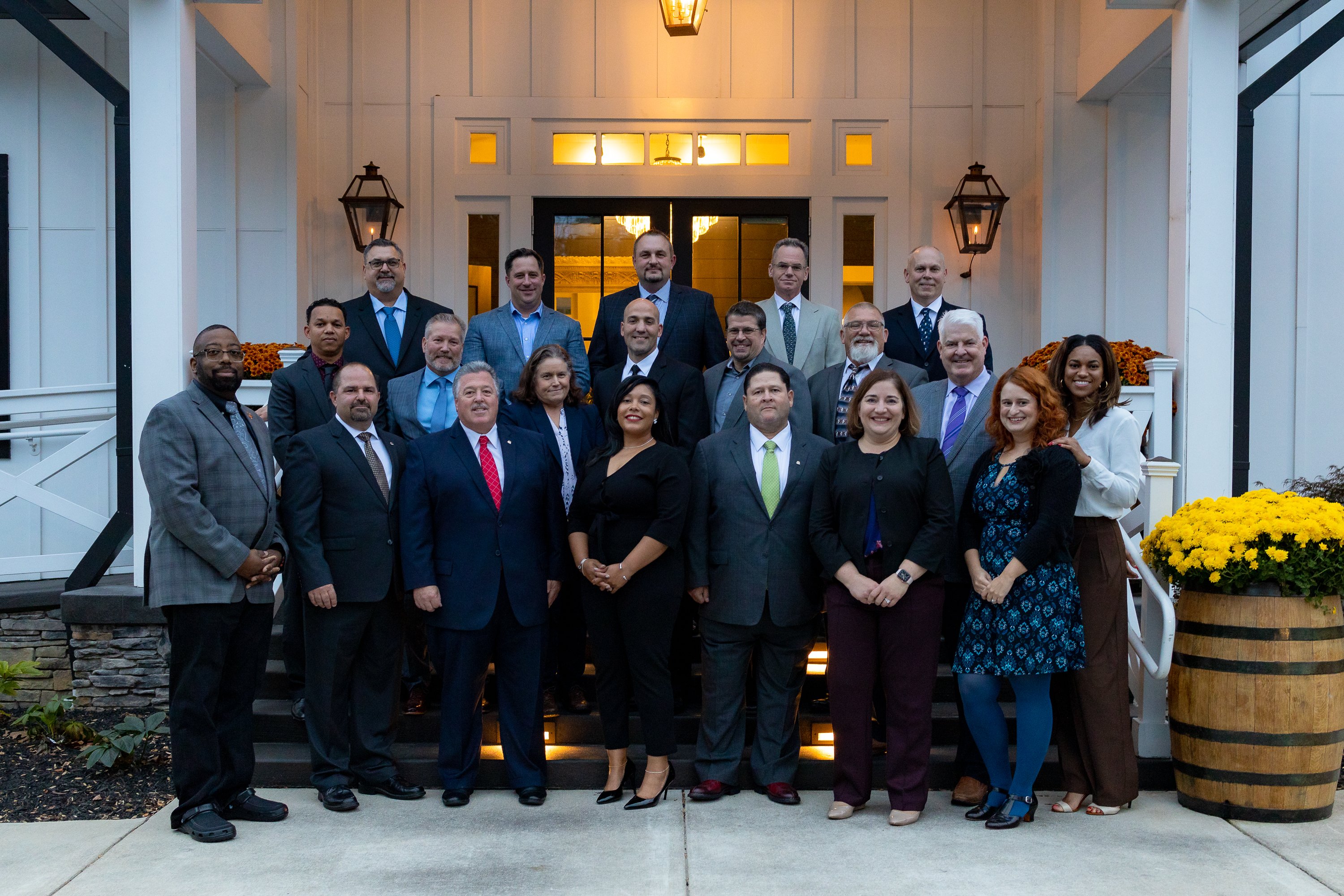 2021 ICP graduates pictured with BAC President Timothy J. Driscoll, BAC Executive Vice President Carlos Aquin, BAC Executive Vice President Jeremiah Sullvan, Jr., and IMI/IMTEF President Caryn Halifax. From left to right, top row: Michael Flowers, Jansen Rudy, Michael Szelag, Phillip Lamb, and Dan Arthur. Middle row: Lorenzo Peralta, Pete Kohl, Laurel Harris, Anthony Joseph, Michael Hyatt, Michael Waltz, BAC President Timothy J. Driscoll, and Esther Eve. Front row: IMI National Job Corps Director Jonas Elmore, IMTEF National Director of Apprenticeship and Training Anthony DiPerna, BAC Executive Vice President Jeremiah Sullvan, Jr., IMTEF Director of Education Operations Serenia Holland, BAC Executive Vice President Carlos Aquin, IMI/IMTEF President Caryn Halifax, and Elizabeth Kekeris.

ICP prepares new instructors to teach the trade to the next generation, going beyond tools and materials, with a focus on structuring training programs to help students succeed. These dedicated instructors help to carry out the industry's best training to BAC members, creating a highly skilled, safe, competitive, and productive workforce.
The graduates were honored during an awards ceremony this Thursday, where they were commended for their hard work and dedication to teaching the skilled trades by BAC President Timothy J. Driscoll, IMI/IMTEF President Caryn Halifax, IMTEF National Director of Apprenticeship and Training Anthony DiPerna, and IMTEF Director of Education Operations Serenia Holland.
We asked the 2021 ICP graduates to reflect on how the program shaped their approach to teaching, and what it means to them to be on the front lines of the union's quality training programs.

The Graduates
Dan Arthur, BAC Local 7 New York/New Jersey: "ICP has been life-changing. I always respected teachers; they can change the outcome of a person's life. There are a couple teachers I've had that really helped me in my life. I hope I can do the same for my apprentices. While I take pride in the projects I work on, there's no job more satisfying than teaching the trade."
Michael Flowers, BAC Local 4 Indiana/Kentucky – Whitney Young Job Corps Center: "It's a feeling of immense personal pride and satisfaction to be one in a select group of likeminded men and women who are the best in their fields and have a deep commitment to BAC, IMI, and training the best craftworkers in the world. This trade has changed my life, and for that, I'm grateful. ICP has been so helpful in guiding me to be an effective, positive educator for the future of our industry and the next generation of skilled craftworkers."
Laurel Harris, BAC Local 3 California: "I am so grateful for the opportunities that have been afforded me through ICP and my local union. I have been able to help shape the kind of craftworker our apprentices become, through my stories and by the example I set in the training center. As an apprentice instructor, I love seeing my students succeeding and prospering in this field. This is my new reward in my work. I used to stand back and admire projects I was a part of completing. Now, the development of competent and confident craftworkers is my measure of success."
Michael Hyatt, BAC Local 5 Wisconsin : "Graduating and becoming a certified instructor is a bigger accomplishment than I thought it would be in the beginning. I had no idea how much work or dedication went into this certification. It is an honor to be part of the graduating class of 2021. I've made friends that I'll have for the rest of my life and our comradery and collaboration is critical in helping our union strengthen and grow. "
Anthony Joseph, BAC Local 9 Pennsylvania: "Graduating ICP is one of the greatest achievements in my life. Knowing I possess the tools to be the best instructor I am capable of being, which gives my students the best chance to succeed, is most meaningful to me. Words cannot do justice to what this experience has meant to me and what it will mean moving forward."
Pete (Alexander) Kohl, BAC Local 5 Pennsylvania: "Working as an instructor gives you the opportunity to make an impact on someone's life. There's no prouder moment as an instructor than seeing your students go back to their locals, go to work, and enjoy their careers. The best advice I can give fellow instructors is to find ways to relate to your students, not just professionally, but personally, if they let you. We're not just instructors, but mentors. ICP represents an elite group of people that I'm proud to be joining. Graduating from this program is something no one can take away from you."
Phillip Lamb BAC Local 18 Ohio ADC – Lyndon B. Johnson Job Corps Center: "Being an instructor at Job Corps is more than teaching students how to lay brick. It's about developing employment skills and a mental attitude that will help them become better self-supporting adults. Seeing them grow and develop a positive attitude towards their personal and professional development is of altruistic value to me. You can't buy the personal satisfaction that working with Job Corps students brings me. The ICP program has facilitated my success."
Lorenzo Peralta, BAC Local 1 New York: "This program has taken me (a professional in his field) and taught me how to convey information to my students. I know that I am a much better instructor than when I first started because of ICP. I take great pride in seeing the young men and women that I've taught become successful in our trade, and even greater pride when these individuals tell me what a great job I've done instructing them."
Jansen Rudy, BAC Local 15 Missouri/Kansas/Nebraska: "Demonstrating mentorship to an apprentice as soon as I meet them is critical to gaining trust, respect, and developing a relationship with them. As an instructor, it's my job to set the tone and communicate not only my expectations, but the importance of union pride, following industry standards, safety, and my commitment to their success. It's exciting to see my apprentices find their voice and demand high standards for quality and safety."
Michael Szelag, BAC Local 52 Illinois: "All of the training the ICP has provided to us by IMI changed me as a person. It made me a more confident, patient, and mature individual. I have a different point of view because I don't judge people and I try my best to give everyone a chance. I would like to see everyone be successful in their lives. Professionally, I have been honored to learn this material and acquire knowledge to implement all of what I have learned up to this day."
Michael Waltz, BAC Local 4 Indiana/Kentucky: "I consider it an honor and privilege to have been chosen to participate in this program. There are no useless classes or courses at ICP; each is useful in our everyday instruction. The "tools" as I call them, that are provided to us by the instructors, are invaluable. I know without a doubt that the BAC will continue to be the best hands in the business!"
Congratulations again to the class of 2021 ICP graduates!