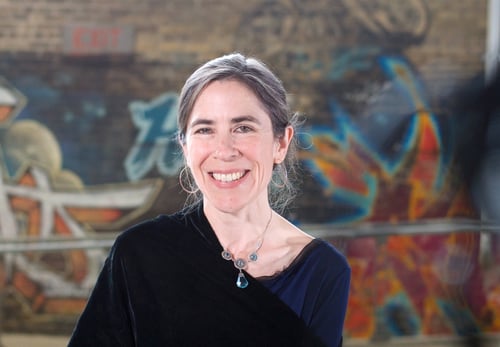 Katherine Faulkner, AIA, founding principal of NADAAA, will deliver the opening keynote at Masonry Camp 2018, a nationally-recognized design-build training program that brings together talented designers and craftworkers from the International Union of Bricklayers and Allied Craftworkers (BAC). The event, held December 3-8, 2018 at the BAC/IMI National Training Center, gives young designers the opportunity to gain a deeper understanding of masonry materials and construction through lectures and hands-on training.
At NADAAA, Faulkner oversees firm operations, fabrication, and design on select projects. Since 2011, she has directed efforts to expand the firm's prototyping facilities and portfolio, extending NADAAA's geographic reach and capacity to deliver large projects. A graduate of Dartmouth College, Faulkner received her MArch from Harvard's Graduate School of Design and an MBA from Boston University. She has been working for over 20 years in residential, academic, institutional, and health-care projects.
Faulkner and the design team at NADAAA are currently working on a new residence hall for the Rhode Island School of Design. The project's masonry will be installed by BAC signatory contractor Grande Masonry.
Here's a look at Faulkner's other recently-designed projects:
View NADAAA's lookbook and projects to see more of their innovative work.
Faulkner's work at NADAAA is celebrated in the industry, and has been recognized with notable awards, including:
2014 Holcim Award
2017 Boston Society of Architects Women in Design Award of Excellence
3 Green Good Design Awards
6 Progressive Architecture Awards; as well as numerous AIA and BSA Awards
Faulkner has given lectures and served on panels internationally, and we're pleased to welcome her for Masonry Camp!
Check back on the IMI blog for updates the week of the event, including highlights from Faulkner's lecture, or follow along at #MasonryCamp!