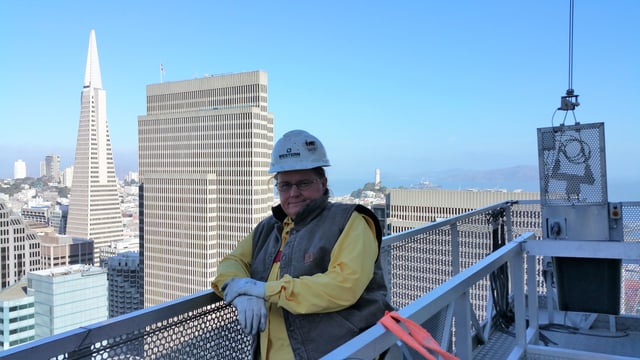 Laurie Harris, BAC Local 3 Northern California JATC Apprenticeship Instructor, has led restoration projects on many of San Francisco's historic gems, from the Citadel at Alcatraz Island, to Old St. Mary's Cathedral, the San Francisco Ferry Building, the Westin St. Francis on Union Square, and the Cliff House in the Golden Gate National Recreation area, to name a few.
"I get to do work that people can't afford to design into buildings anymore. There are architectural details you don't see anywhere else," said Harris. "You get your hands on history, and are a part of saving history. They're beautiful buildings."
After 30 years in the field, Harris was tapped by Local 3's executive leadership to take on a new role as a BAC instructor, sharing her knowledge in bricklaying, PCC, marble, and terrazzo with the next generation of craftworkers.
Harris got a call from Local 3 President Dave Jackson on her way home from work a few years ago. "Are you still interested in a teaching position?" he asked. Harris had applied for a part-time instructor role in 2013 at the encouragement of others in her local, but didn't get the job. She clearly made an impression, though, and this time, Local 3 was prepared to make her an even better offer, for a position as a full-time instructor.
It was a natural fit. "I was teaching on the job almost the entire time. I've had apprentices on the job tell me they've learned a lot working for me and with me, because I like to tell people what I know. I enjoy sharing my methods, my techniques, and the reasons I do it that way," she said. "I need [apprentices] to learn this trade so that we keep it in the union. If we don't teach the next generation, we're shooting ourselves in the foot."
Even after 3 decades working with masonry, Harris knows there's no end to learning. "I've always learned something new at every job, and I tell my students, 'you're never going to stop learning in this trade, or in life.' I've been surprised at how much I've learned from my students, though, both related and unrelated to the job. They bring in tools I've never seen before, and I tell them all, 'youre going to meet people in the trades who might have a completely different tool than you, but it's used to do the same thing.' I tell them, 'work with what you're comfortable with, and look at what everyone's using, because you're going to learn from every person you work with, good and bad.'"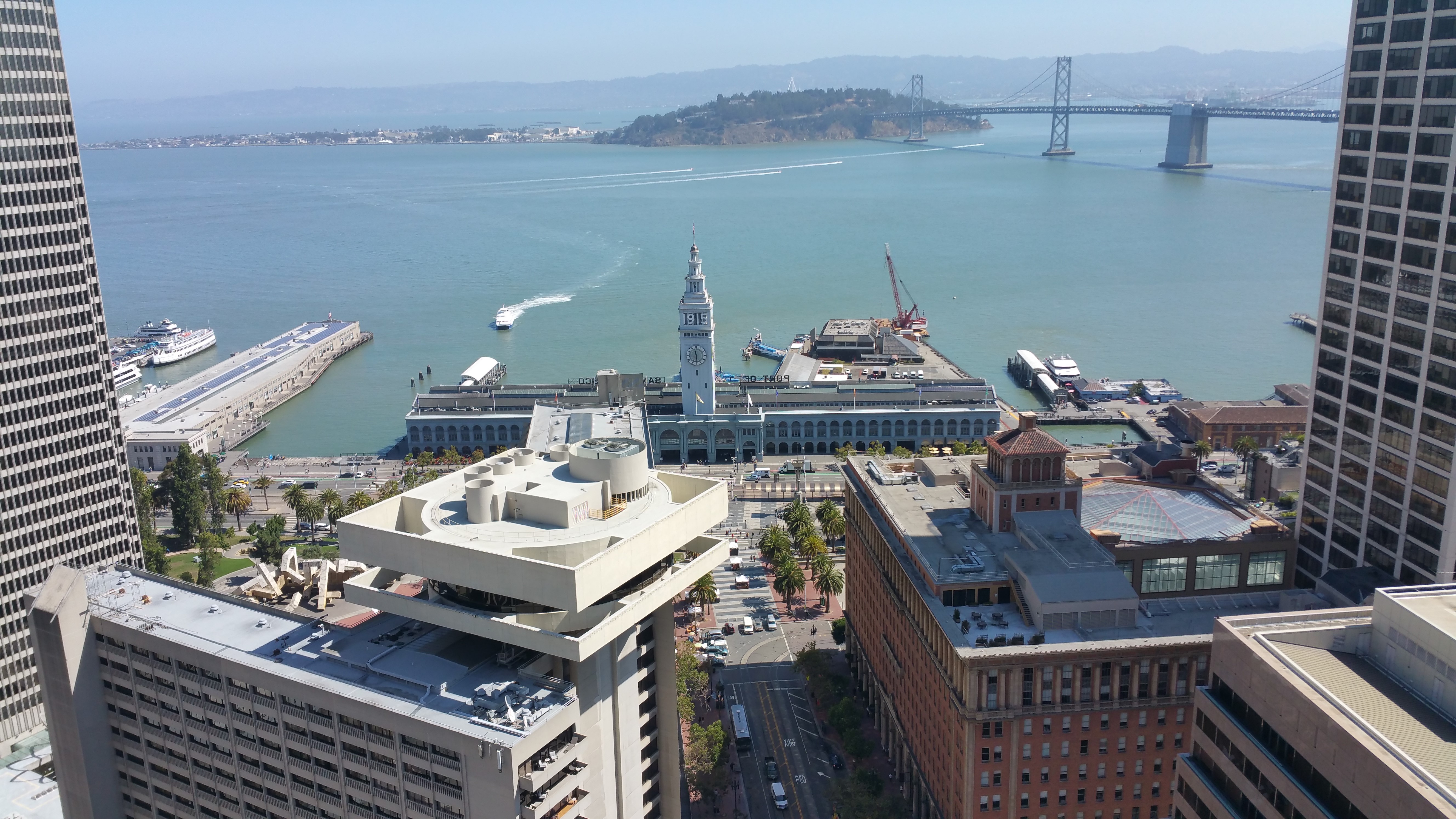 Harris took this photo of the San Francisco Ferry Building, on which she had previously performed restoration work, from the roof of 101 California Street, a 48-story office skyscraper.
Harris has had to hone new skills in transitioning to her role as a full-time instructor, which she is learning in IMI/IMTEF's Instructor Certification Program (ICP). "I've never had to know how to stand in front of a group and teach before, so that's a different experience," she said. "I'm used to organizing a job site: get the materials there, figure out who's going to do what. But now it's 'how do I take this group of people and get them to do this exercise on paper, and show them how it applies to what we're going to do in the shop? And they're all at different levels all the time, even if they all come in as brand new students."
Local 3's apprenticeship program is rapidly growing. In the last 15 months alone, they've increased the number of students enrolled at their training facility from 120 to about 200.
So how is Harris handling the growth on top of adjusting to life as an instructor? "I like to be busy at work," she stated. "I always have. I like having a lot to do."
When it comes to lesson planning, IMI/IMTEF's new curriculum – which includes instructor and student manuals, along with other resources – has made it easier to teach. "The [curriculum] is great because I can pick it up and use it without needing a lot of prep time, and it can lead into other things," Harris noted.
Harris is in her 2nd year of IMI/IMTEF's 5-year Instructor Certification Program, held at the National Training Center in Bowie, Maryland. Through ICP, BAC instructors learn how to help their students succeed, and how to structure a training program that meets the needs of members throughout their working life. ICP Instructors are updated on the latest technical and industry information, ranging from new building products and systems to changes in health and safety regulations. The curriculum is constantly adjusted to anticipate changing expectations and ensure that BAC members are trained to the highest standards.