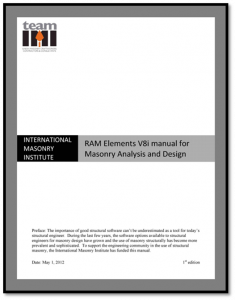 A New Structural Masonry Manual developed by the International Masonry Institute (IMI) – RAM Elements V8i for Masonry Analysis & Design – is now available. Click here to download a free copy of the manual from the IMI web site.
This manual assists engineers when designing structural masonry with RAM Elements (RE). It is a short, concise guide that has step-by-step workflows for assorted options within the software.
Given the sophistication of today's structural software, the manual serves as a guide to remind engineers how to use RE for designing masonry efficiently and effectively. It presents, in a brief and graphic style, the options offered for masonry engineering using RE highlighting shortcuts and options such as importing models from other software packages such as Revit or RAM Structural System, hybrid masonry/frame tools and much more.
Bentley applauded IMI's efforts and now has a link to the manual on their RAM Elements Facebook page.