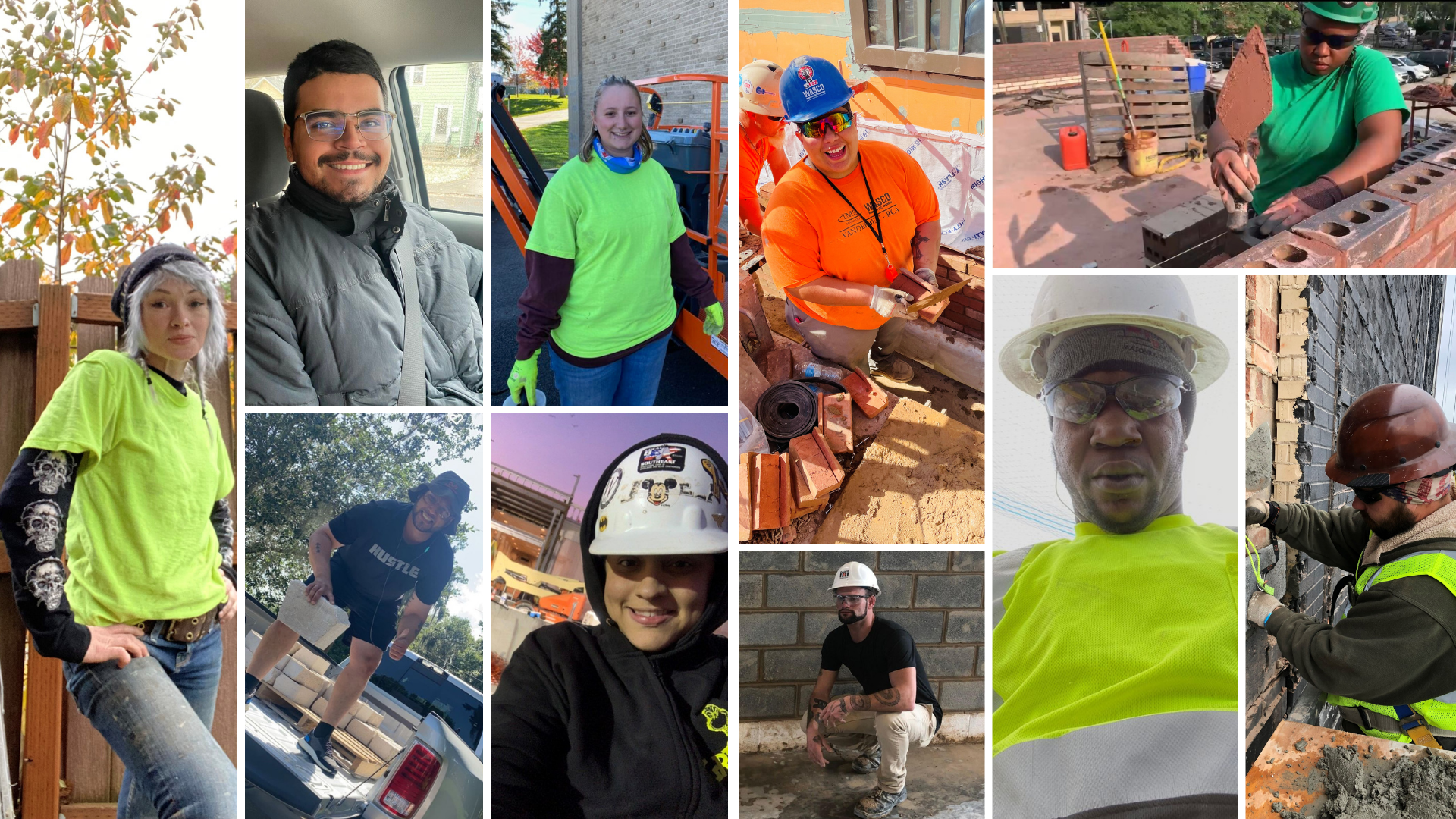 Last week, we celebrated National Apprenticeship Week by spotlighting the International Union of Bricklayers and Allied Craftworkers' talented apprentices from across the country. This showcase highlighted the successes and value of Registered Apprenticeship in rebuilding our economy, advancing racial and gender equity, and supporting the communities in which we live and work. Throughout these conversations, apprentices reflected on their journeys and expressed gratitude towards their apprenticeship programs, local unions, and employers.
The Apprentices:
Mariela Duran, BAC Local 8 Southeast : "For me, being a part of the union is an incredible experience. The apprenticeship training classes are so helpful. Every day, I learn something new. It's pretty amazing. As a woman working in a male-dominated field, I'm determined to be the best"



Christopher Elliott, BAC Local 1 MN/ND : "I always want to learn more and grow my mind. Here in the union, you have people that you can go to, and as a black mason, I feel very welcomed. I can't say that about everywhere I go. I'm grateful. It's been a long ride for me. I want to show people the great things I can do. I really enjoy passing by buildings and telling people that I worked on it –it's a really good feeling"



Fawn Nichols BAC Local 1 OR/WA/ID/MT : "I think the apprenticeship program has been a life-changing experience for me, the encouragement and education were more than I expected. As a woman in the trades, it has a given me level of self-trust and created a foundation I can fall back on. I came in with some assumptions that I may not be treated equally but it has been the opposite. I have truly received the support from my instructors and an equal opportunity"



Kristina Trevino, BAC Local 8 SE : "I kind of get choked up because I was confused for a long time, but it's a second chance and it's a way to provide for myself and the people I love. It doesn't matter what my background is or where I come from, as long as I stay dedicated to my craft, then no one can take that away from me."



Jeremy BAC Local 5 OK/AR/TX : "What I love about the union is our focus on safety. We get the job done in the most efficient and safe way possible. It's completely changed my quality of life. I've been able to do things for myself and my family that I never thought possible"




Essence Wallace, BAC ADC 1 IL : "I found most of the trades to be very interesting but nothing beat the bricklayers. I don't know what it was, the bricklayers just felt like home. I would like to go to schools in Chicago to show the kids that it is okay to not go the traditional college route if you get to do what you love. Don't be scared, be persistent and have patience because at first, everything will trigger you but you can do this!"



Jessica Weber, BAC Local 3 New York : "I really love looking at a building, figuring out what's wrong with it, and restoring it to its former glory. Everyone I work with has their own techniques and approaches. As a woman in what's thought of as a 'man's world,' I'm on the same playing field. I'm treated the same, I make the same amount of money, and I work just as hard. It's a great opportunity that allows women to thrive in this field. As an added bonus, if something's wrong with my house, I have the skills to fix it"



Hector Leanos Sanchez, BAC Local 1 MN/ND/SD : "I was just reflecting on how far I've come in such a short time span in the apprenticeship program. When they first put a trowel in my hand during the pre-job class, it just felt so foreign to me. Now, it's starting to become second nature to lay brick and block. It's good to know that the union will always have my back. The networking you get with the other apprentices can help push you forward. It's cool to have those bonds with your coworkers"



James Olvera BAC Local 8 SE : "Choosing, this path has dramatically changed my life. Given my past choices and decisions, WASCO has given me a second chance. I have a rebirth and a future, with job stability and growth. I find at WASCO, the Sneed family took a chance on me, and I am going to pay it back in full."


We wish all our apprentices the best of luck as they complete their training and leave their mark on the built world.
If you or someone you know is interested in joining a registered apprenticeship program in the trowel trades, sign up at bacweb.org/join-bac