The 2015 edition of the International Building Code® (IBC®) requires most schools and emergency facilities located in areas of high tornado risk to contain storm shelters that meet the requirements of International Code Council (ICC) 500, Standard for the Design and Construction of Storm Shelters. In the U.S., this new requirement will impact the majority of new school construction, all 911 call stations, emergency operation centers and fire, rescue, ambulance and police stations spanning as far north as central Minnesota, as far south as southern Mississippi, and stretching to western Pennsylvania in the east and Texas to the west. Many code experts believe that this growing emphasis on "high wind sheltering" will eventually spread to other states.
Fortunately, masonry is already a great option for storm shelters and is included in FEMA P361, a free guide for architects and engineers that describes how to create these shelters.

In order to demonstrate additional cost effective masonry wall configurations typically used in states facing the highest risk of tornadoes, IMI commissioned testing of two partially grouted masonry cavity wall assemblies. In this tornado missile test, an air cannon fired three 15-pound 2 by 4 "missiles" at the wall specimens at a minimum speed of 100 mph. After three tests, it was determined there was no penetration to the shelter interior – the cavity walls passed the tornado missile testing.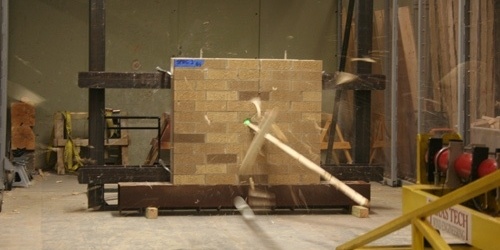 This successful test helps IMI work to expand the choices available to designers for high wind sheltering with masonry, as partially grouted and reinforced masonry cavity walls can be added to previously tested, solidly grouted masonry walls as options for design.

Working with key architects, engineers and consultants, one option that IMI is showcasing is a wing concept for new schools and similar facilities. Instead of building a separate storm shelter, a masonry school can simply strengthen a wing of the facility with storm shelter doors, windows and other requirements, allowing that area of the school to function as both classroom space and shelter.

IMI and the National Concrete Masonry Association are also partnering to develop sample design guides. These will supplement already ongoing webinars and local events that have drawn the attention of both designers and local school officials. All of the reasons why masonry was already a good choice – fire resistance, safety, durability, sustainability – apply to shelter construction as well. With new practical masonry design options, and mandated code requirements, it's use is certain to expand.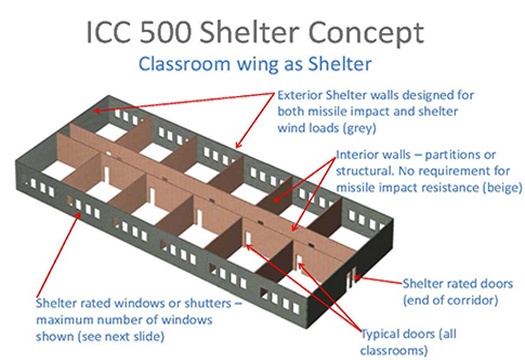 originally published in: BAC Journal, Issue 2, 2015