Healthcare facilities, including hospitals and outpatient clinics, have seen increased scrutiny and fiscal pressures since the onset of the COVID-19 pandemic. Designers and facility managers are currently looking at better ways to build, and tile and masonry are natural solutions to a variety of concerns.
GPT Wall Panels as Interior Retrofit Finish
In light of public health concerns and shrinking maintenance budgets, many facility and building owners are opting to retrofit their interiors with new finishes that are impervious, durable, and easy to clean and maintain. Ultra-large porcelain tile panels provide a healthy alternative to gypsum board and other wallcoverings that may be porous and susceptible to microbial growth. These larger tiles are either gauged porcelain tile (GPT) or large-format tile (LFT). Large-format tile is any tile which is 1.0 square meter or greater.
IMI recently released a new set of details that serve as a reference for the installation of ceramic, gauged porcelain, stone, or glass tile on gypsum board backing on steel or wood studs.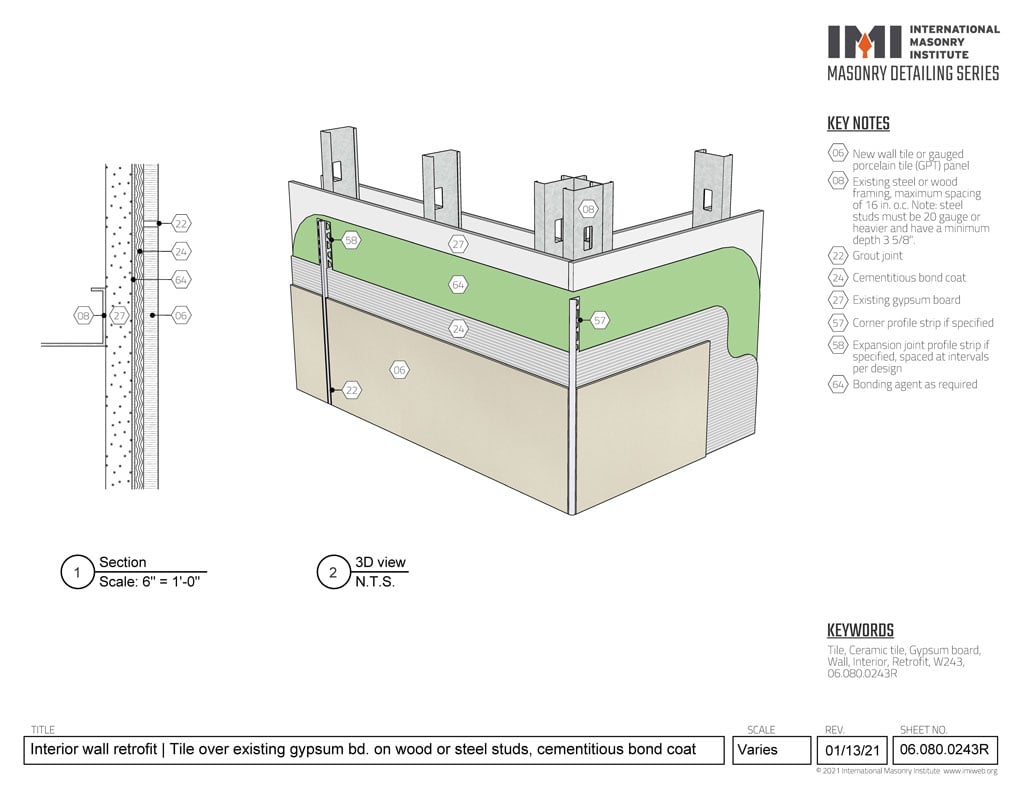 Gauged porcelain tile panels are manufactured as thin as 3.5 mm, just over 1/8 in., often precluding the expense of demolishing existing construction. Panel sizes of up to 5 feet by 10 feet result in minimal grout joints and a wall surface with the hardness and resistance to pathogens only porcelain can provide. With hundreds of colors, textures, and patterns to choose from, interiors are benefiting from an aesthetic upgrade as well as one of function.
The installation of GPT and GPT panels is best left to the experts: trained installers and contractors signatory to BAC, the tile union. The material is similar to conventional porcelain tile, but due to its ultra-large format and extremely thin profile, its installation requires specialty skills and installers who meet minimum qualifications, according to the installation standard ANSI A108.19.
Health and Hygiene Benefits of Tile Make a Resurgence
Tile floors and walls have always been a great choice in healthcare, thanks to properties and attributes like these:
Easy to clean: Wiping with some soap and water is all that's needed to clean up most messes — no harsh chemicals are necessary.
Antibacterial: inhospitable to the growth of bacteria.
Antimicrobial: options are available with antimicrobial properties that can suppress and even destroy harmful microorganisms, such as mold, fungi, bacteria, and viruses.
Hypoallergenic: contains no allergens, and allergens in the environment such as dust, dirt, and pollen can't penetrate ceramic tile's nonporous surface.
No volatile organic compounds (VOCs): VOCs are harmful gases that cause various health concerns and are emitted by virtually all flooring types except ceramic tile.
No formaldehyde: Some wood products may contain formaldehyde. Certain levels of formaldehyde can irritate asthma and other respiratory disorders, but ceramic tile does not contain formaldehyde.
No polyvinyl chloride (PVC): free of PVC, a resin found in many vinyl flooring types. PVC contains phthalates and organotins, both regularly a subject of concern among health experts.
No plastic: The health and environmental concerns associated with plastic aren't an issue for ceramic tile.
Nontoxic: doesn't emit any toxic fumes when exposed to fire.
Naturally occurring materials: a healthy choice for both you and the environment.
Terrazzo Flooring Offers Innovative Way to Improve Wayfinding
Effective wayfinding in hospitals and healthcare facilities makes it easier for patients to navigate large, complex buildings. Increasingly, hospitals are looking for innovative ways to help guide patients where they need to be, no longer relying solely on conventional overhead signage. Terrazzo is a natural flooring choice to provide visual cues to help people navigate through a building. Varying colors and patterns can create pathways to direct patients and visitors to the right locations, making terrazzo a fun and unique wayfinding option to improve the patience experience.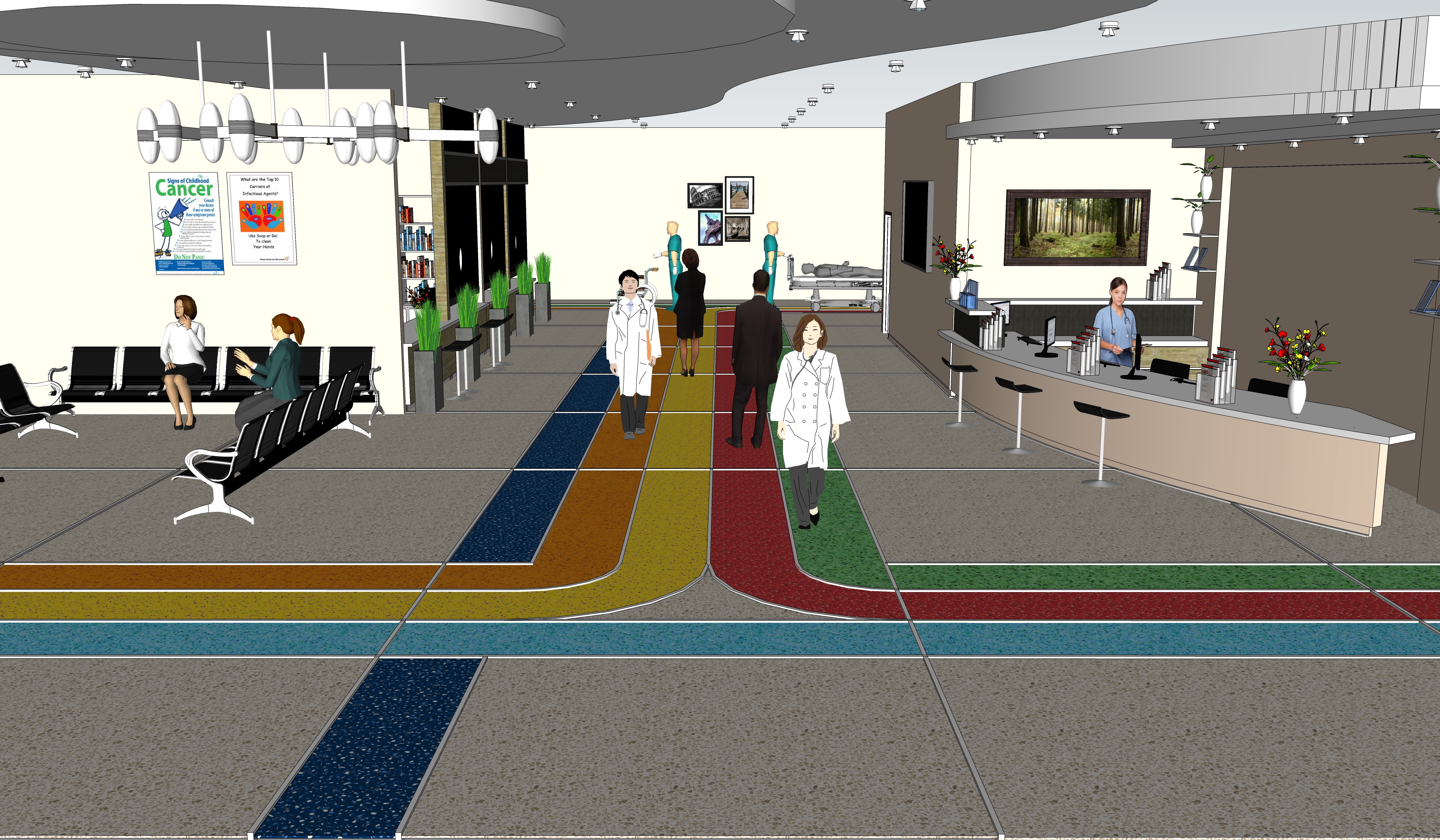 CMU Partition Walls: More Durable, Better Sound Control, Less Maintenance
Cement block unit walls, both load-bearing and non-bearing, can be a smart choice for many healthcare settings. Some of the many advantages over painted drywall surfaces include:
Sound control, between patient rooms and between patients and corridors/public areas, is a key concern in healthcare design. A 6" CMU non-grouted wall reduces 35% more sound than a typical interior 3 5/8" LGMF stud wall with 5/8" GWB. This 35% reduction is easily discernible, and it creates a better environment for patients, visitors, and staff.

Newer Tile Technology May Actively Combat Bacteria, Mold, and Viruses
New tile products such as Hydrotect and Hytect offer additional features over and above typical ceramic or porcelain tile. Both manufacturers include titanium dioxide within the glaze, which appears to fight odors, mold, bacteria, and even some viruses. This is sold as an option to their baseline tile product lines.
Infection Control Risk Assessment Training Prepares Installers for Healthcare Work
Contractors and workers involved with the construction or renovation of healthcare facilities need to understand the Infection Control Risk Assessment (ICRA) procedures to properly perform the work. That's why the International Masonry Training and Education Foundation (IMTEF), in conjunction with the Center for Construction Research and Training (CPWR), offers Infection Control Risk Assessment (ICRA) training for BAC signatory contractors and their employees. The 8-hour program equips installers to apply ICRA procedures and covers practical ICRA tools like containment, negative air, HEPA filtration, and work practice techniques.
Look for contractors who have undergone this specialized training for your upcoming healthcare projects.
IMI continues to monitor trends in healthcare, and is a resource for designers interested in making the most of masonry and tile solutions.
Contact us for support on your next project.