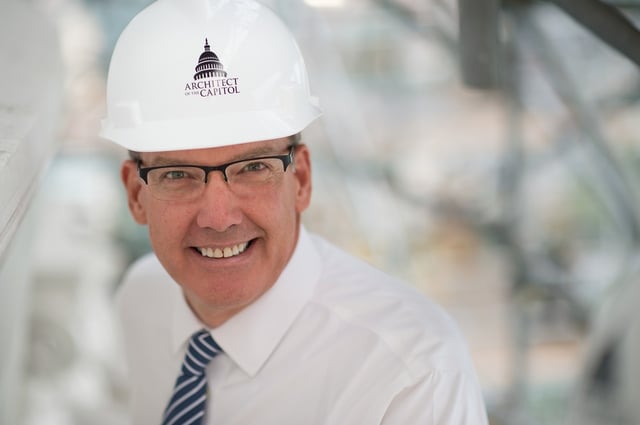 Stephen T. Ayers, FAIA, CCM, LEED AP, is the Architect of the Capitol. Under his leadership, the Architect of the Capitol (AOC) staff serves Congress and the Supreme Court, preserving and maintaining the historic buildings, monuments, structures, and grounds of Capitol Hill. From the U.S. Capitol itself to the Supreme Court, many of Capitol Hill's buildings are constructed from masonry materials.
Maintaining historic structures requires experience, but it also welcomes new thinking and approaches that can lead to more effective preservation techniques. IMI recently reached out to Ayers, who is also serving as a juror in the Joan B. Calambokidis Innovation in Masonry Design Competition, to get his thoughts on innovation in architecture and design.
Why is it more important now than ever for architects to innovate in desigm?
Energizing and recruiting young professionals into the design and construction profession is important to me, and innovative design work can provide that spark to steer them into the design and construction profession.
Do you have any tips for helping architects and designers tap into innovative thinking?
Collaborate with experts in other fields for a more holistic approach to the built environment. Always be on the lookout for the latest innovations in materials and products, which can be incorporated into innovative designs. Identify common problems and consider how design can offer a solution: big problems are best solved by diverse groups of people with diverse perspectives focused on a common goal.
What exciting potential do you think the future of design and construction holds?
Our industry can use greater focus and attention on technology adoption, LEAN principles, process improvement and productivity gains. There is plenty of potential for our next generations of architects, engineers and constructors to improve these areas to help increase quality, reduce waste and lower costs.
Are you ready to innovate? The Joan B. Calambokidis Innovation in Masonry Design Competition is still open for submissions, with $30,000 in prizes up for grabs. If you're an architect, designer, engineer, or student, register for the competition today!