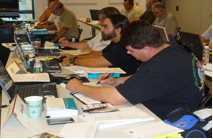 Many states have now mandated that construction workers receive baseline safety training in the Occupational Safety and Health Administration (OSHA) Outreach Training Program, after several accident investigations cited lack of training as the cause. Typically, this requires that all construction workers complete at a minimum, the OSHA 10 hour safety program and select supervisors must complete the OSHA 30 hour program. Although OSHA has not dictated an expiration date for completers of this program, several states and even several general contractors have begun to implement a cut-off period of five years.
In order to maintain the validity of the Outreach Program, OSHA has implemented several changes in the past year. One major change, in the pre-requisites for the OSHA 500 Train-the-Trainer Program, effective September 1, 2011, requires all instructor candidates have 5 years of construction experience and complete the OSHA 510 program. The OSHA 510 program is a thirty-hour program emphasizing OSHA's policies, procedures and standards for the construction industry as well as safety and health principles. This new program requirement is only offered at the BAC/IMI John J. Flynn International Training Center. For a list of IMI's upcoming safety programs please go to: http://imiweb.org/training/safety_health/index.php.
In an effort to extend the life cycle of today's building stock the restoration and rehabilitation market has seen significant growth, especially with projects built prior to 1977. These projects may include schools, hospitals, churches and multi-family dwellings. There is a great concern that without proper training, craftworkers may be exposed or may be exposing others to potential harmful lead-based materials. Recently, the Environmental Protection Agency (EPA) has mandated that projects involving disturbances of lead-based surfaces or materials, be supervised by an EPA "Certified Renovator". Contractors for these jobs are also required to register with the EPA. Failure to provide an EPA Certified Renovator or failure to register as a contractor will result in penalties starting at $37,500.
In order to comply with this new mandate several IMI\BAC instructors from across the U.S. took part in a Lead Training Initiative held at the Flynn Center. The main objective of this week-long event was to provide our instructors with the knowledge necessary to fulfill educational requirements in Lead Safety, as dictated in the EPA Instructor application. There were 20 participants in the Lead program, and each participant received certifications for the 32-hour Lead Supervisor and EPA Renovator program.
In August IMI held a Train-the-Trainer program for the Mine Safety and Health Administration (MSHA). This program is delivered in the same format as the OSHA 500 Train-the-Trainer, requiring participants to create and present a safety module. Upon completion, the participants are authorized to deliver IMI's nationally approved New Miner 24 hour training program. All necessary training materials used to deliver this program are provided by IMI.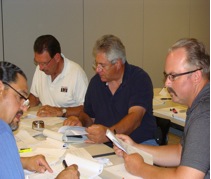 The main objective of all IMI's Train-the-Trainer safety programs is to produce a highly qualified trainer who will in turn deliver safety training of high caliber to our members giving them a competitive edge.
For more information on Safety Training or if you have a need for a safety program not listed on our website, please contact IMI National Safety Coordinator Michael Kassman at 301-291-2108 or by email mkassman@imiweb.org.