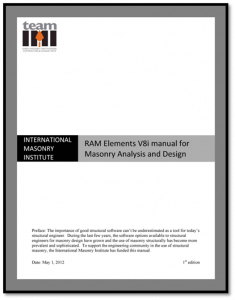 The International Masonry Institute's (IMI) programs go beyond the technology of the craft keeping members engaged in their continued education.? Programs devoted to new products, systems and technologies as well as courses designed to meet required certifications bring members from all the BAC trades together to learn, share and create a better, stronger industry together.
In an effort to make sure that none of its many upgrade and certification programs grow stagnant, IMI conducts regular reviews of programs with focus groups including staff, contractors, local leaders and craftworkers. IMI's Supervisor Certification Program (SCP) is one such program that is undergoing updates to keep it current with contractor and industry needs. SCP specifically addresses the construction process, role of the foreman, professional relationships, layout, site control, productivity, project supervision and personnel management.
BAC members who have completed their apprenticeship can also take advantage of IMI's continuing craftworker education programs including: Cross Craft, Air Barrier, Cold Weather Masonry, Flashing, New Products and Refractory Training as well as AAC, Green Craftworker, Grouting and Reinforced Masonry, Jahn Restoration Material, Masonry Adheered Veneer and Masonry Rain Screen Wall System Certifications. IMI also offers OSHA/MSHA authorized Health and Safety Courses from Fall Protection to Silicosis.
Productivity and quality workmanship is not something that happens by accident. Leadership and motivation, improved communication skills, effective jobsite management, treating workers fairly and equally, and maintaining a safe work environment are all essential skills for today's foremen. Understanding and following company policies and procedures and professionally representing your employer in meetings and correspondence are also critical attributes for the successful foreman.