By Team IMI
This article was first published in BAC Journal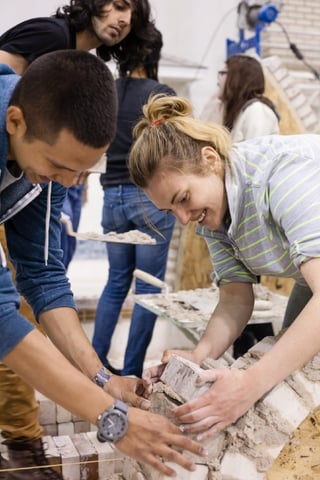 If educating professional architects and engineers about masonry and the value of BAC craftworkers and contractors is important, it is equally critical to plant that seed in the designers of tomorrow. For this reason, student education is a basic component of the International Masonry Institute (IMI)'s comprehensive industry development program. Many architecture and engineering colleges require students to take courses in steel and concrete, but some only offer a masonry class as an elective. IMI fills this gap with a variety of masonry education, from lectures to field trips to design competitions to hands-on bricklaying activities.
IMI works with over 50 colleges and universities on their masonry programming, highlighted by the popular Masonry Day Design-Build Competition at the University of Notre Dame School of Architecture, held annually since 1989. The New Jersey Institute of Technology's Masonry Design-Build Competition, where students and BAC apprentices cooperate as teams to design and construct a masonry project, has long been supported by the New Jersey Administrative District Council and the Mason Contractors of New Jersey. Here are a few more examples of IMI's involvement:
Illinois Institute of Technology
One example of a longstanding program is IMI's relationship with the College of Architecture at Illinois Institute of Technology (IIT) in Chicago. For the past twenty years, IIT architecture professors have relied on IMI to teach second-year undergraduate students about masonry each year. A typical masonry semester may involve a 90-minute lecture on masonry design and construction delivered on campus, followed by a half-day field trip to the IMI training center where the students lay brick, build arches, install flashing, grout walls, and repoint walls – all under the expert direction of IMI bricklaying instructors.
IMI has also sponsored masonry design competitions, organized tours of brick and block plants, and coordinated hands-on demonstrations and exhibitions of other crafts like terrazzo and plaster. IIT professors consider this program a highlight of the semester, and the students greatly appreciate the opportunity to work alongside BAC journeyworkers, ask questions, and gain insights that are invaluable at this stage of their professional development. The experience of an IMI education stays with these young designers as they eventually become licensed professionals and design masonry projects.

University of Wisconsin
Each fall, University of Wisconsin – Milwaukee's School of Architecture & Urban Planning conducts a 16-week "Masonry Studio" program for over 100 undergraduate design students. IMI Director of Industry Development Pat Conway, AIA, works with the UW faculty to teach students about masonry concepts through lectures, studying masonry buildings, hands-on experiences with masonry products and accessories in the studio, three masonry design challenges, and informal question-and-answer sessions with visiting IMI staff, BAC Business Agent Bill Bonlender, Wisconsin District Council, and union mason contractors. In addition, students attend lectures by renowned architects who often use masonry in their practice.
Masonry Studio concludes with a design competition, with the three top student teams being awarded an opportunity to work with BAC members to build mock-ups of their projects in the atrium of the architecture building. The award winning projects are selected by a panel of judges including many masonry industry representatives. Masonry Studio is supported with materials, labor and funds by IMI, the Wisconsin Masonry Alliance, the Mason Contractors Association of Milwaukee, County Materials Corporation, Spec-Mix, and the Wisconsin Mason's Trust Fund.

University of Pennsylvania
IMI Director of Industry Development Roy Ingraffia is an adjunct professor at University of Pennsylvania's School of Design and teaches the Masonry Conservation Seminar in the Graduate Program of Historic Preservation. He works closely with both architecture and preservation students to teach contemporary masonry design and the restoration of masonry structures. As part of the curriculum, he emphasizes the need to engage with craftworkers early in the design process in order to enhance the collaborative building and repair process. Over the course of the year, he invites students from the University, as well as from other regional universities, to work with the apprentices and instructors at the BAC Local 1 Pennsylvania/Delaware Training Center.
Ingraffia and International Masonry Training and Education Foundation (IMTEF) Safety Director Mike Kassman have also had the opportunity to work with the graduate students on hands-on projects where more in-depth discussions and instructions can occur. One such project took place in the summer of 2014 and involved assessing conditions and making repairs to a small 1880's brick homestead near Mancos, Colorado. The students learned how to cut out deteriorated mortar and damaged brick, formulate and mix repair mortar, reset brick, and repoint joints. These students who have since graduated are now part of active restoration projects where they have a better appreciation for the craft and are better able to communicate with their contractors.

University of Minnesota
IMI Director of Industry Development Mark Swanson is an adjunct professor at University of Minnesota and heads up a Masonry Hands-on workshop for the School of Architecture. This workshop is a unique opportunity for architecture students to learn and practice masonry design and construction by working directly with the BAC Local 1 Minnesota/North Dakota Training Center in conjunction with IMI.
The workshops are a part of the apprenticeship method of teaching. The objective is to break down barriers between designers and builders, and encourage future designers to use masonry. The workshops also teach the valuable lessons of building and craft, reinforcing the importance of quality design and workmanship, and the value of using trained craftworkers for projects. Finally, the students are exposed to the amazing potential and rewards of designing with masonry.