Chicago's Cook County General Hospital is getting a second chance at life with the help of BAC Administrative District Council 1 of Illinois (ADC 1 IL) members and signatory contractors. The 105-year old Beaux Arts building – made of brick, granite, and terra cotta – has been sitting vacant and neglected for over a decade, despite its historical significance in both the architectural and medical communities.
"The building is one of Chicago's crown jewels," explains Hector Arellano, PCC Director at ADC 1 IL.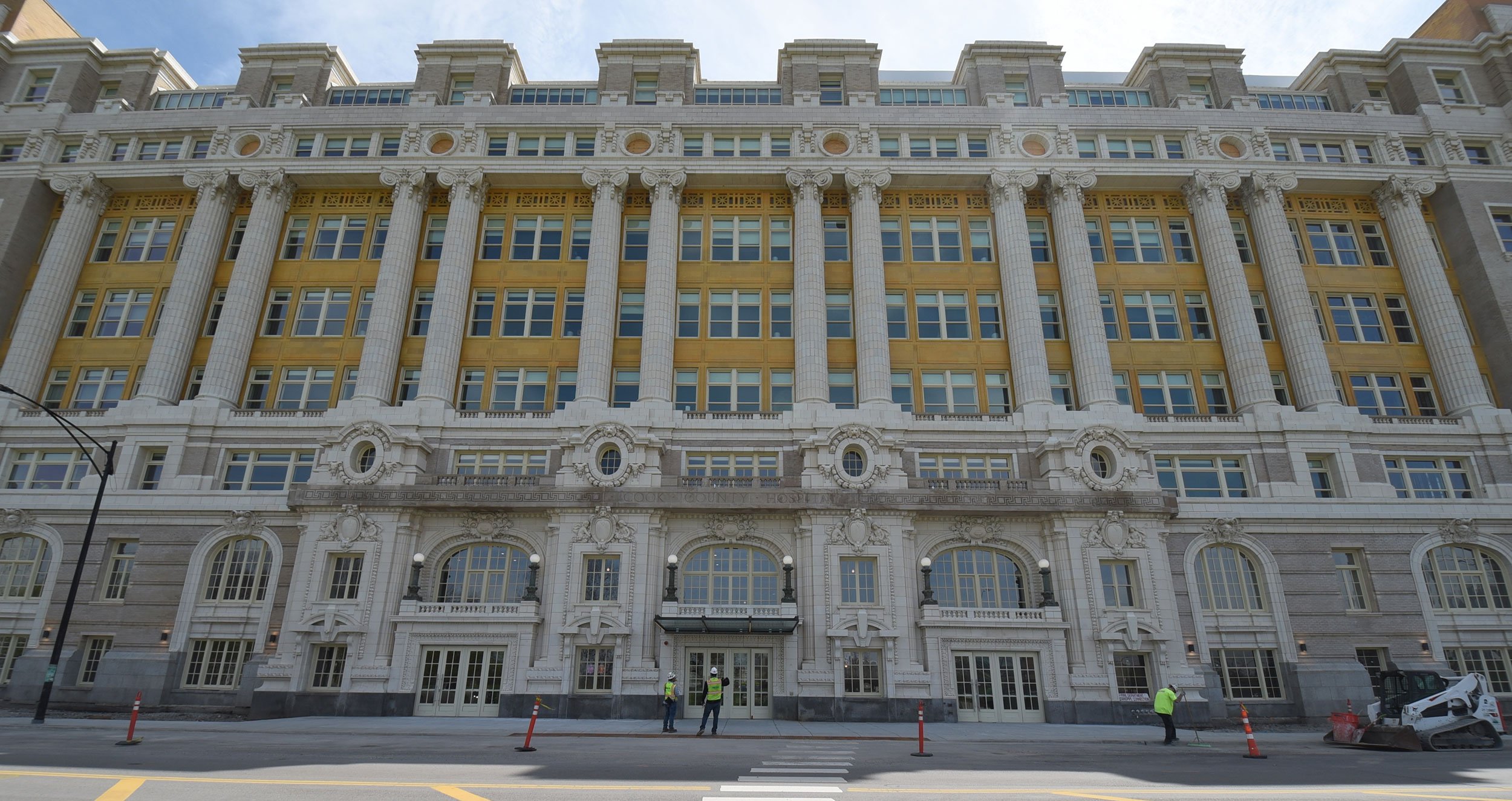 Over the last year, Arellano and Jeff Diqui, IMI Director of Industry Development, together with Roy Ingraffia, IMI National Director for Partnerships and Strategic Initiatives, have been working to expand the union's relationship with Landmarks Illinois, a nonprofit dedicated to raising preservation awareness and saving important historic structures throughout the state. Landmarks Illinois led the effort to add the Cook County General Hospital to the National Register of Historic Places, a move that made the project eligible for federal historic tax credits – and that stopped it from being razed.
"They're always looking for historical landmarks to preserve, and these are huge projects that create thousands of manhours for our members," says Arellano of Landmark Illinois. This spring, IMI and ADC 1 IL put together a special program in conjunction with the organization at the District Council Training Center to showcase BAC and IMI's restoration expertise.
"They can see how we train our apprentices and journeyworkers – how we continually teach new techniques and new materials," says Arellano. "They also see the quality of the educational seminars that IMI provides for the architects and engineers that they work with on restoration projects. So, they have confidence now that we're trained in the right techniques when it comes to preserving these landmarks. BAC and IMI are in a unique position to help Landmarks Illinois achieve its vision to protect important historic spaces."
When the exterior restoration construction documents were released, ADC 1 IL signatory contractors were invited to submit bids, and two were awarded contracts: Mark 1 Waterproof & Restoration and MBB Enterprises of Chicago, Inc. In addition to their experience working on many of Chicago's iconic historic structures, the contractors employ BAC members that have received IMI's Historic Masonry Preservation Certificate (HMPC), a recognized credential for craftworker restoration expertise. The project crews are working with some of the building's original design plans, and the scope includes terra cotta repair and replacement, grinding and pointing mortar joints, brick cleaning and replacement, and flashing installation. All in all, the façade work includes $12 million in masonry repairs.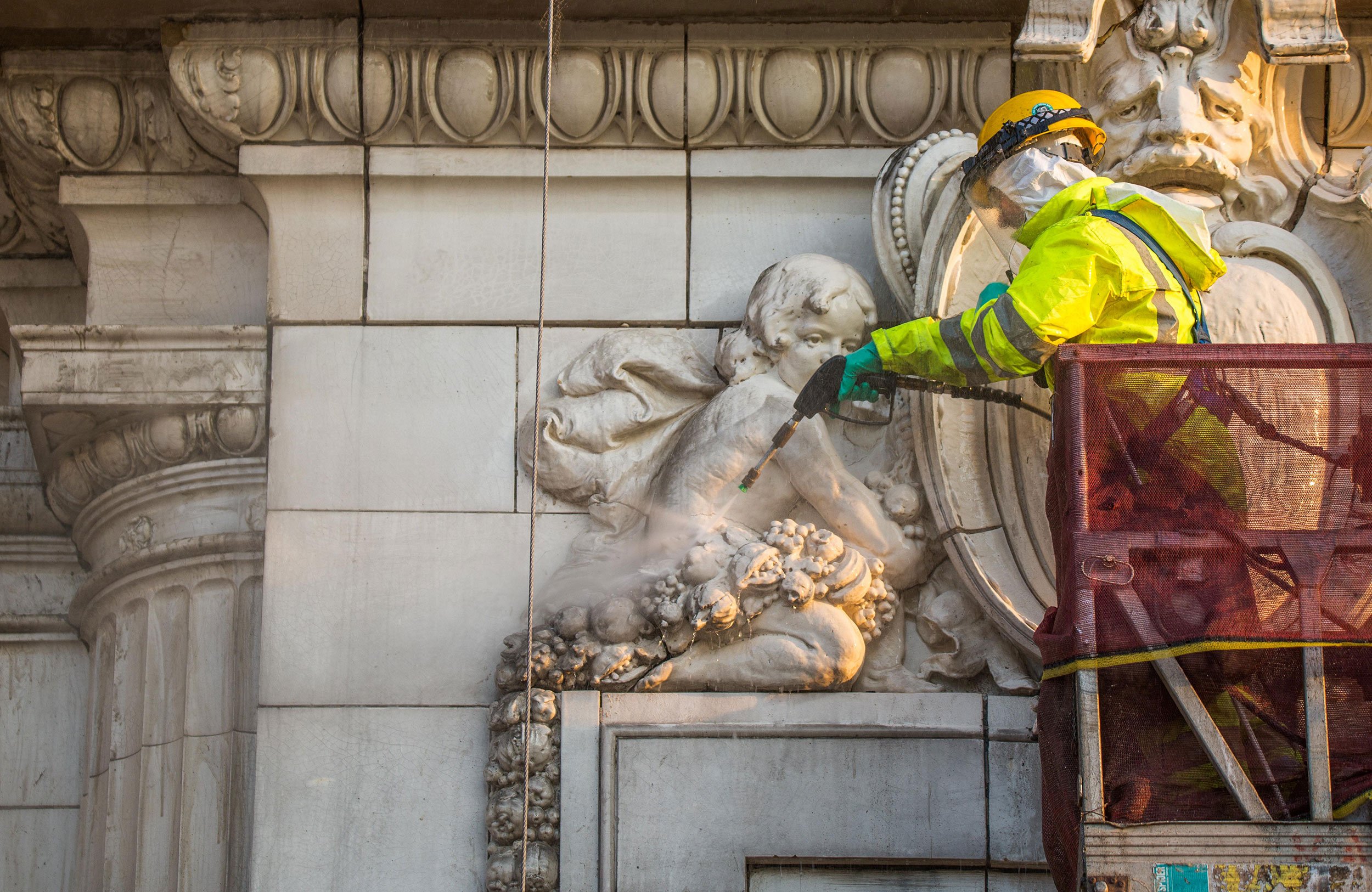 Photo courtesy of Eric Nordstom/Building 51 Museum
General Contractor (GC) Walsh Construction, architect Skidmore, Owings and Merrill (SOM), and Chicago developer John T. Murphy and Murphy Development Group worked together as a design-build team to respond to Cook County's 2015 RFP to reimagine the hospital's use. The $1 billion, four-phase project is set to be transformed into 345,000 square feet of mixed-used space, including offices, a hospital museum, and two Hyatt hotels. The project team hopes to save some of the historic showpieces inside the building, like the Works Project Administration (WPA) tile murals and terrazzo flooring.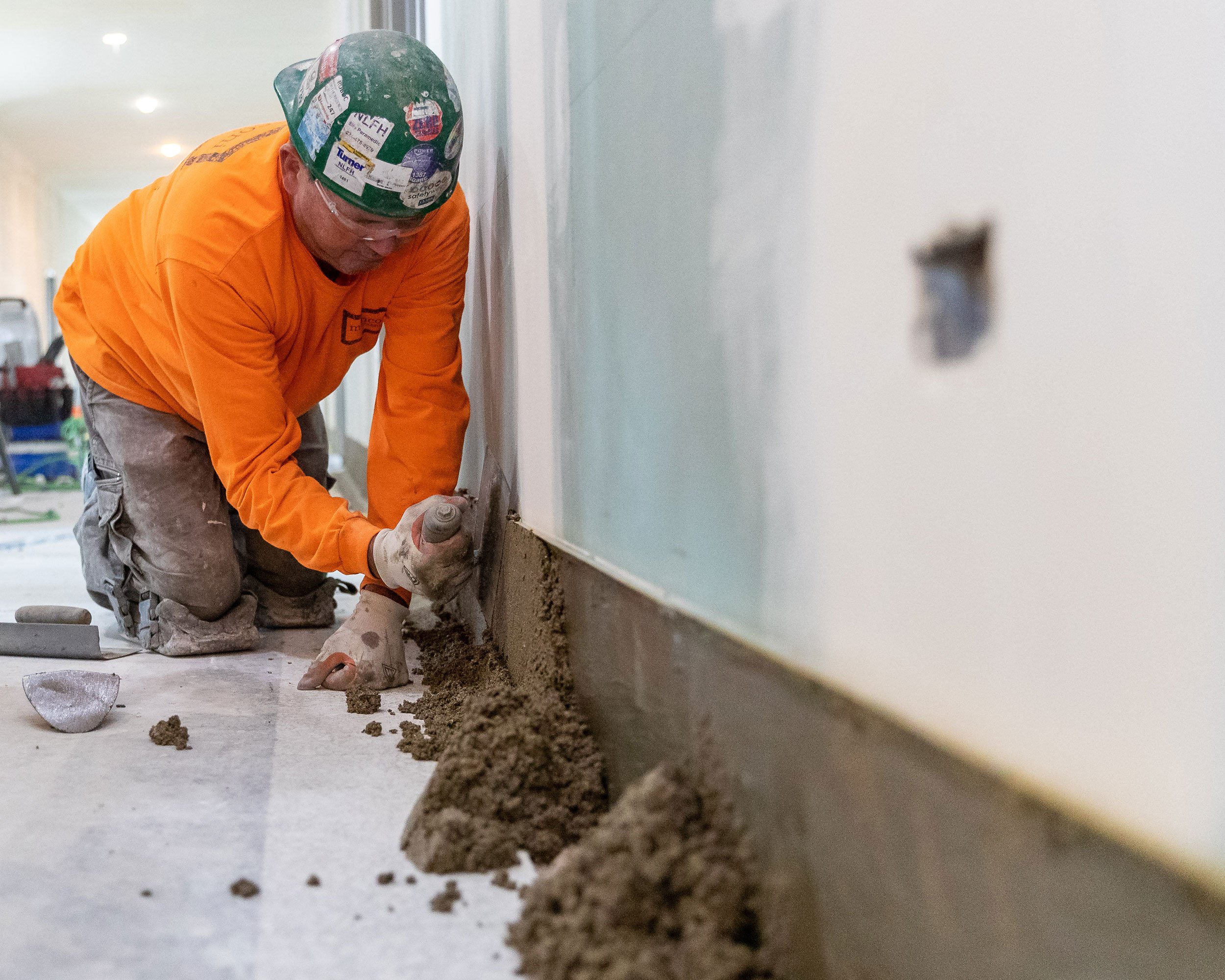 Photo: Dave Naprstek for IMI
Walsh Construction knew it could turn to IMI for support in leading the restoration of such a massive-scale project. Angelo Trapani, Director of Quality at Walsh, reached out to his long-time contact Diqui to request specialized restoration training for the project's superintendents. The ADC also invited the project signatories to attend, bringing the GC and subcontractors together for a full-day program covering preservation issues appropriate for the work to be performed on the hospital. The seminar, presented by Amy Lamb Woods, IMI Director of Technical Education, covered condition assessments, masonry materials, and wall system construction and performance. Suitable masonry material repairs were also discussed, including appropriate unit replacement, cementitious patching options, mortar analysis and composition, as well as cleaning approaches and methodologies.
"The Cook County project perfectly exemplifies how developing partnerships with like-minded organizations can benefit our common goals," says Ingraffia. "We're constantly working to build relationships that help us secure more union masonry work for our hardworking members and signatory contractors."