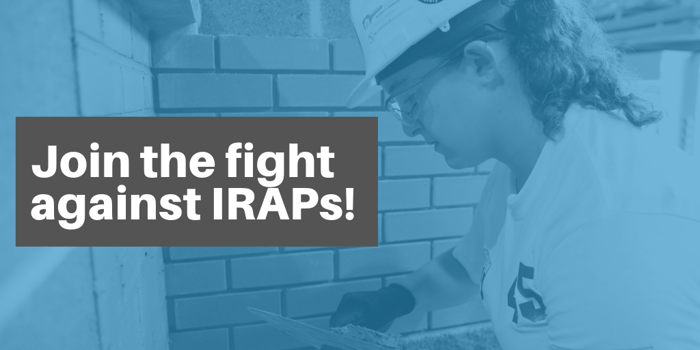 The future of the union masonry industry and our gold standard registered construction apprenticeship programs is at risk. The Department of Labor's (DOL's) proposed Industry Recognized Apprenticeship Programs (IRAPs) would run parallel to our effective programs and reduce wages, cut corners, weaken standards, and lower quality. IRAPs would allow organizations that have avoided establishing and paying for top-notch training programs to create their own apprenticeship programs with little to no oversight and no progression requirements for either wages or skills.
We need your help to let the DOL know that there is no substitute for registered apprenticeship programs, and that IRAPs have no place in construction. The comment period closes on August 26, 2019, so we must act fast!
Right now, the proposed ruling provides an exemption for the construction industry, but the DOL is requesting comment on whether there should be a construction exemption at all, and if such an exemption should be temporary.
Every BAC apprentice, journeyworker, signatory contractor, affiliate, along with supportive friends and family, should submit a comment on the regulation to encourage the DOL to make the construction industry permanently exempt from IRAPs under the final regulation.
If you need assistance filing a unique comment, contact BAC, IMI, or your BAC Administrative District Council (ADC), Local, or Joint Apprenticeship and Training Program (JATC). You can also download our comment guides for BAC apprentices and instructors and BAC signatory contractors for additional guidance.
Our registered apprenticeship programs have created pathways to gainful employment in skilled construction for over a century, providing world-class training in the trowel trades and jobs that pay middle-class wages while providing health and retirement benefits. Together, we can fight to prevent IRAPs from driving down standards for our established, highly effective programs.
Hear from International Union of Bricklayers and Allied Craftworkers President James Boland on why IRAPs pose such a serious threat to our industry.

While personalized comments are the best way to make our voices heard, if you would like to join the fight against IRAPs but do not have time to submit a unique comment, you can also file a form letter as an apprentice, signatory contractor, or friend and family member.